Our development team at Txture is constantly improving the Txture platform to adjust the features to our customers' needs. We appreciate the close cooperation with our customers and always elaborate potential pain points and room for improvement closely together.
What is new?
Infrastructure improvements for SaaS deployments
Our new backup strategy combined with an improved Txture Health Reporting enables even higher availability and reliability of your SaaS instances.
Improvement of Txture's Cloud Transformation Proposals
We enriched our IaaS and PaaS product pricing portfolio for the major Cloud providers. It now contains over 39.000+ cloud services. The larger number of products considered, makes transformation proposals even more precise, reducing costs and increasing the efficiency of the selected cloud services.
Enhancements to Kubernetes and VMware hypervisor asset importers
It is now possible to import a variety of additional statistics and properties from VMware and Kubernetes. This data builds the foundation for an improved capability in right-sizing your cloud deployments and make them more cost-efficient.
New importer: HyperV
Txture now also supports importing your IT assets from Microsoft's HyperV virtualization infrastructure.
Discovery of host configurations via SSH and WinRM
The discovery of host configurations with SSH or WinRM further improve Txture's right-sizing capabilities. Now it is possible to take into account standardized parameters like the host's RAM or CPU-load.
Embedding of views in knowledge management systems
Now you can embed your views in knowledge management systems like confluence, SharePoint or Wikis parameterize them.
Various UI & performance improvements
We implemented minor improvements in the UI and tweaked the performance. For example, we enriched the cluster matrix with hierarchical data on the axis, implemented auto-suggestions for importer property mappings or made the structure view shareable.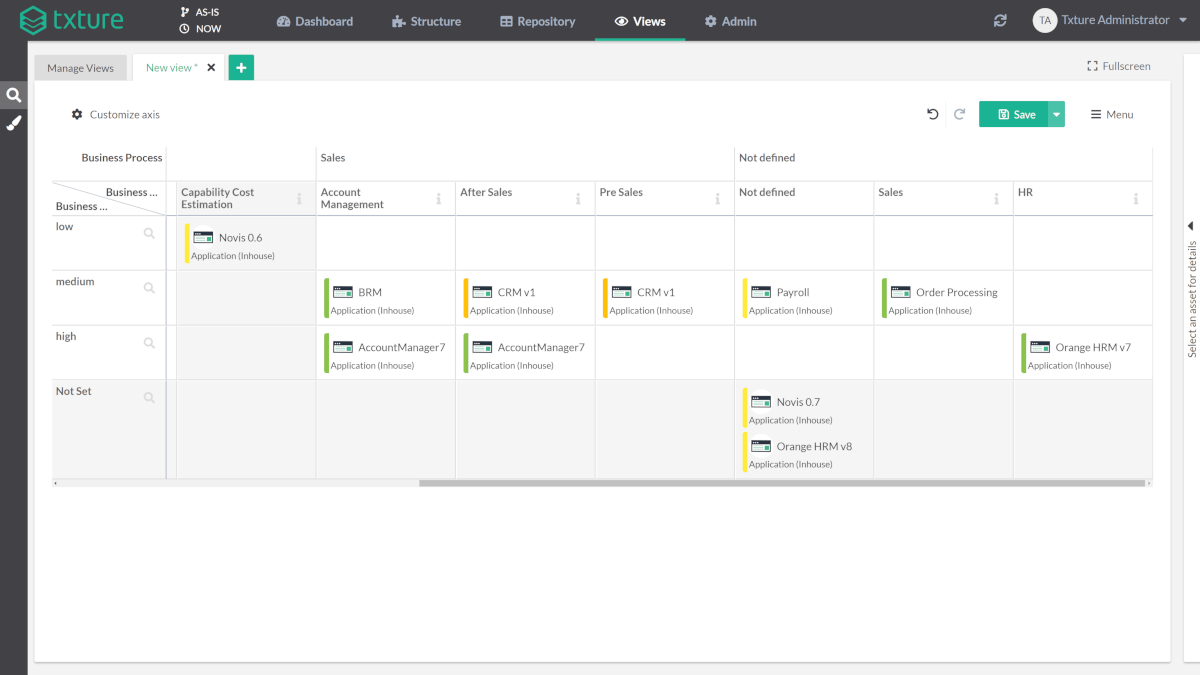 New Cluster Matrix
Feel free to request a free demo or contact us for more information!