For this release we created something very new and special for you. We are delighted to present Txture's new Transformation Cockpit! The Transformation Cockpit changes the way Txture's Cloud Transformation Module gets perceived and used fundamentally. From now on, the Transformation Cockpit constitutes the heart and the entry point of our CT module.
This central cockpit combines synopsis with actions. It provides an overview of all transformation phases and represents the control center for all transformation activities. It guides users intuitively through the discovery, assessment and deployment phases. In each phase it provides insights about a single application's transformation state, an overall summary and important call-to-actions.


Your Transformation Cockpit Benefits
Structured cloud transformation process
Visibility of the transformation phases and required actions
Quick Cloud Strategy adjustments
Controllable Cloud Readiness Assessment
Provider-neutral Cloud Migration Proposals
Cloud cost optimization, provider comparison and cost forecasts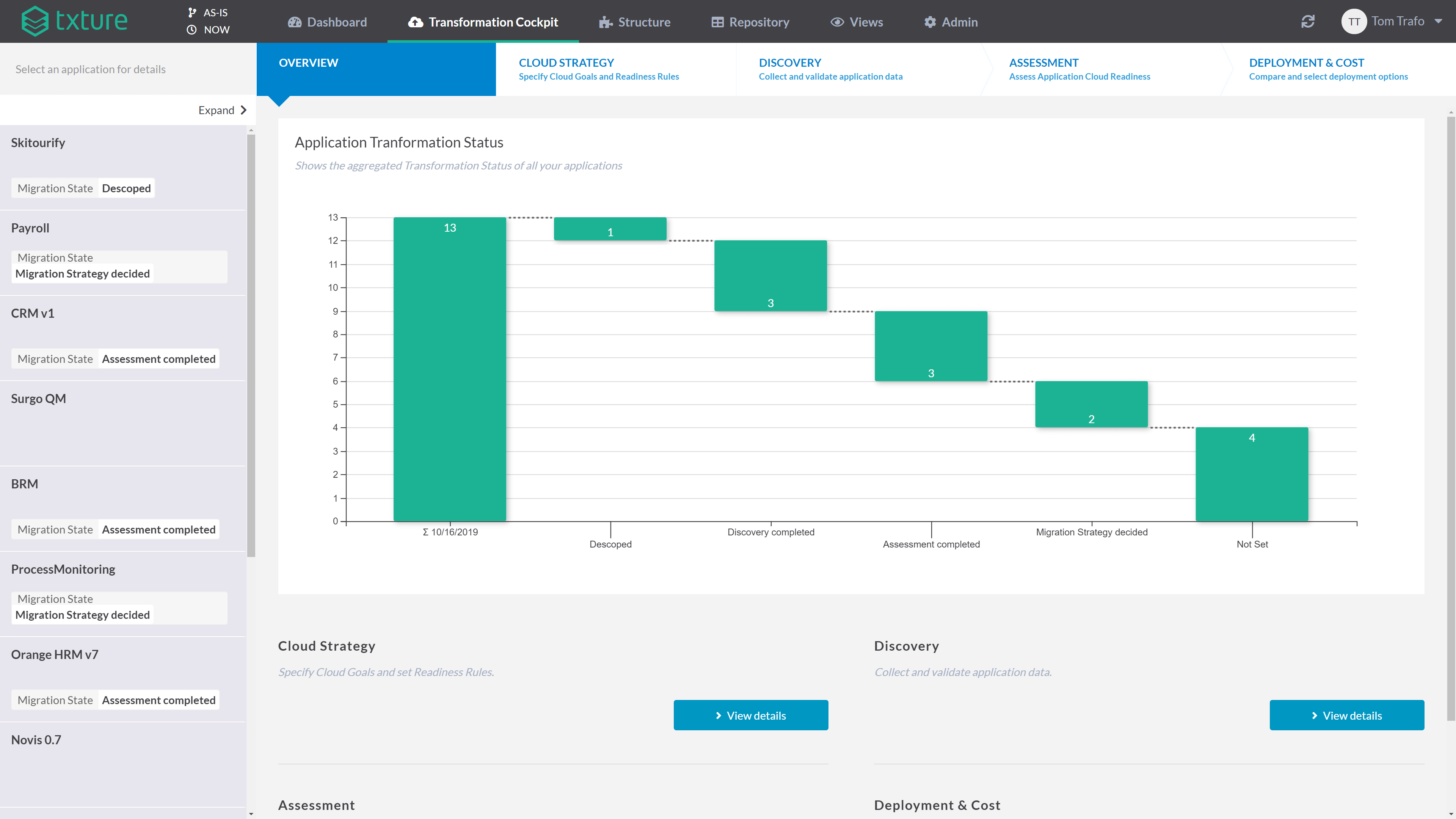 Transformation Cockpit Overview
Transformation Process
The structured process the Transformation Cockpit offers accelerates the transformation, highlights upcoming actions and allows to always keep an eye on the progress.

Transformation Process in Txture
Next to the transformation overview, the Cloud strategy can be set as a starting point of a Cloud transformation, but can also be adjusted at any time during discovery and assessment in order to tweak and compare. You can specify your global Cloud Strategy or assign application-specific ones.

In the process phase "Discovery" you keep track of what application, technology, deployment and operations data have already been collected. You monitor data completeness and are enabled to carry out actions to improve it.

In the process phase "Assessment" you are automatically provided with information about your applications' Cloud Readiness. The assessment takes into account various aspects like application complexity, technical configuration, business aspects and data risk. Based on these information you are suggested a migration timing and can decide whether you want to migrate an application to the Cloud or not.

In the process phase "Deployment & Cost" you can have a look on different Cloud Migration Strategy proposals. The proposals are automatically generated for you and indicate different migration strategies (according to the 6 R's) by making use of products of different Cloud providers. . In this step you can select your preferred proposal and get a Cloud cost forecast and migration plan.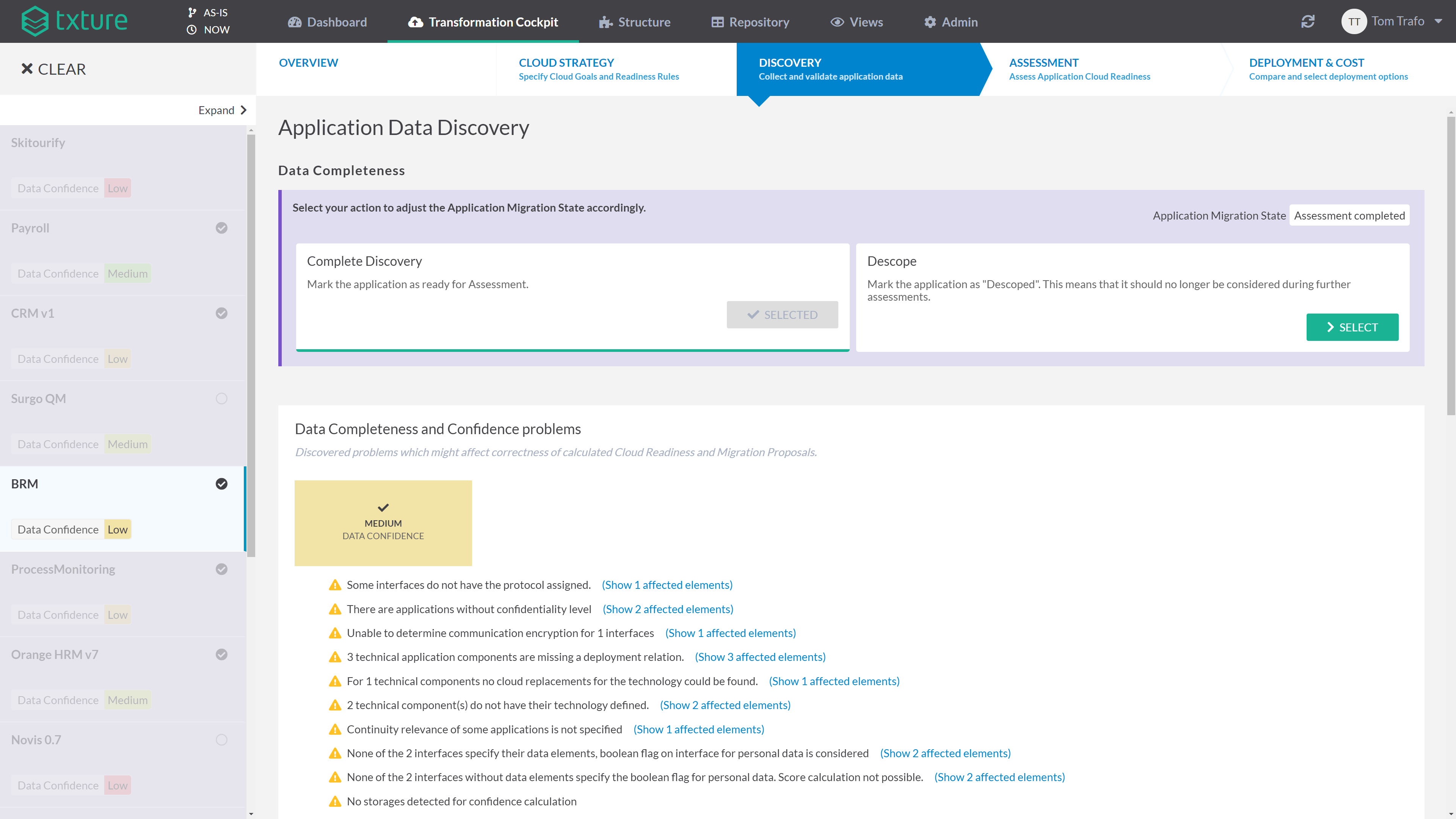 Transformation Cockpit - Discovery
Some more updates in Release 14
Our Kubernetes data integration now supports also Amazon Elastic Kubernetes Service (EKS), directly via your AWS credentials.
We implemented a data integration that allows to import structured data from Microsoft Excel for the use with our Cloud Transformation module.
We created a new visualization type called "Aggregation". Now you can aggregate numeric properties and visualize them accordingly.
Txture now allows to inform users pro-actively on changes of assets. This feature is currently a preview and minor adaptations may occur.
We improved the management of Cloud Readiness evaluation rules, so that you can disable individual ones, if they are not applicable for an application.
Feel free to request a free demo or contact us for more information!