Have you ever wondered how to best evaluate potential cloud strategies for your organization?
As an organization, if you want to move to the cloud, you may find it difficult to commit, since stakes are high and business outcomes uncertain. The reasons are manifold: you may have difficulties making your large and complex application and IT-landscape transparent. You may be unsure about the appropriateness of a certain migration strategy, e.g. applying plain Lift-and-Shift. Or you may be unable to decide and pick from the extensive list of cloud service providers (CSP) and their cloud product offerings.
In this article we discuss Txture Cloud Scenario Simulations, a solution that will guide you by evaluating potential outcomes of a planned move to the cloud. Since, wouldn't it be great to get an early, risk-free glimpse of what is to come after a cloud transformation? For one thing to see how a strategically selected cloud service provider (CSP) would perform from a cost perspective and how other providers would compare? For another thing, what your application landscape would look like, if e.g. not only cloud compute infrastructure (i.e. IaaS) is in the scope, but also database platforms, containers or even SaaS products are?
Ultimately, being able to work with future state evaluations of your cloud landscape helps you to start planning, leads to improved speed during all transformation phases and carries the successful realization of your desired business goals.
We have seen organizations operating hundreds and even thousands of business applications; applications that usually run in different deployment stages at various configurations. We have seen extensive use of all sorts of heterogeneous technology stacks and IT infrastructure. It would be a fairly complex and laborious process to conduct multiple streams of analysis manually, in order to obtain an evaluation perspective of potential cloud target architectures. This is why we developed the cloud scenario simulation feature in Txture.
Txture Cloud Scenario Simulations
The Txture Cloud Transformation Platform is already the go-to solution to assist smooth cloud assessments and efficient migration planning, but we added something exciting for you on top:
With the latest release of Txture, we present Txture Cloud Scenario Simulations, a new feature of our transformation platform to create comparable views across many different target architecture states of your application and IT portfolio, all in an automated fashion.
Simulations can be conducted at any time and at different stages, whether or not you have a primary cloud strategy in place already. They take into account your evaluation preferences regarding CSPs, cloud products, service models and other aspects like geo-locations or product certifications.
During simulations, Txture generates target cloud architectures for each application in your portfolio and projects for your entire portfolio the expected OPEX, service model distribution, data center locations and so on. Simulations are really convenient since they run automatically and can be performed multiple times to accommodate for application data changes. Furthermore, you can have an arbitrary amount of parallel simulations, precisely to express all your alternative cloud strategy preferences. E.g. you may want to compare individual CSPs by taking a plain Lift-and-Shift route with each of them, by only using IaaS. Subsequently, you may compare the Lift-and-Shift settings with a multi-provider PaaS-enabled strategy in order to weigh higher migration effort and cost against the known gains of reduced service management overhead.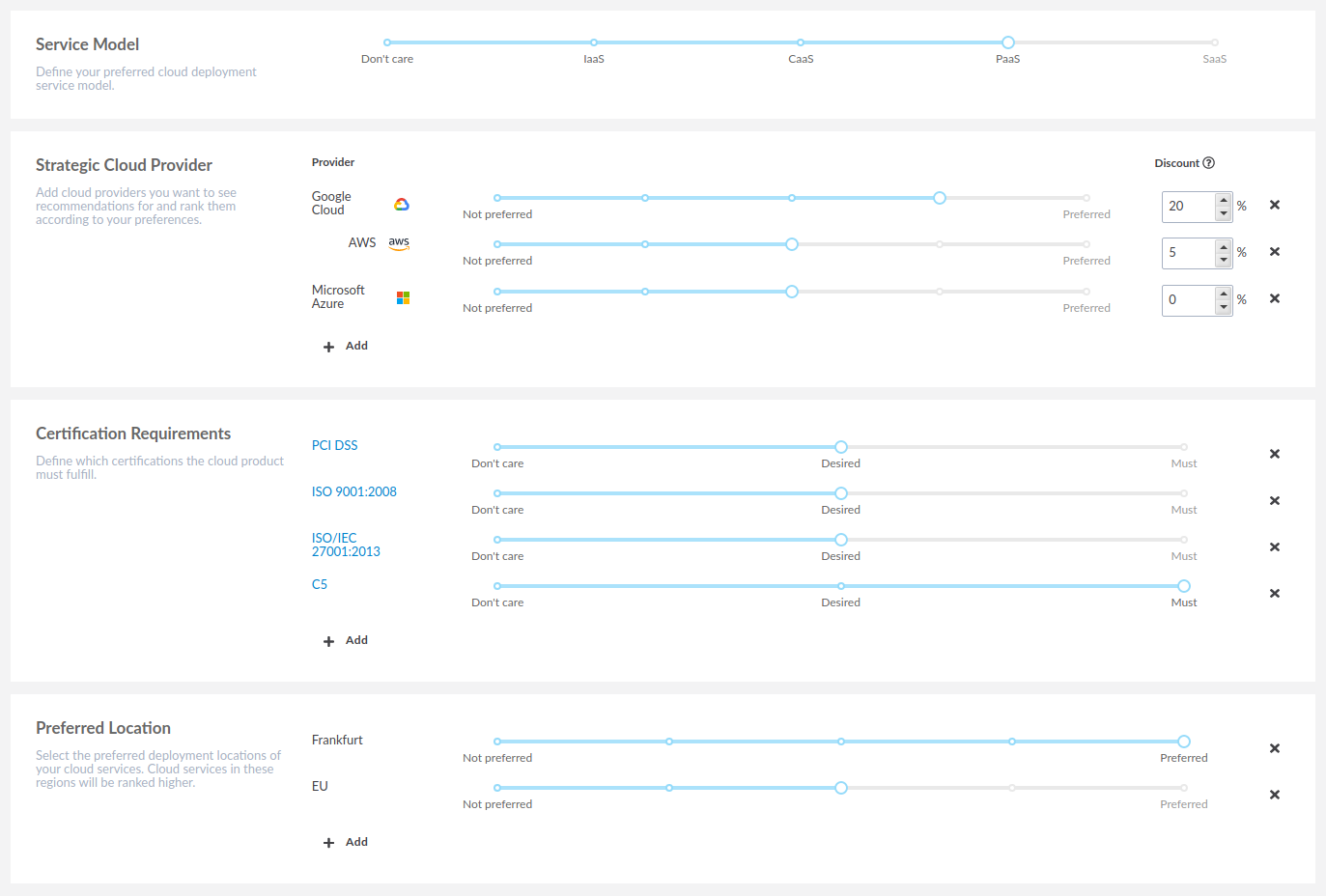 Cloud strategy preferences as they are configured for each simulation to steer outcomes in the intended direction.
Solution Ingredients
One of the core building blocks that we use for Cloud Scenario Simulations is our powerful Cloud Knowledge Engine.
First, the Cloud Knowledge Engine is the place where we store and maintain the vast amounts of information about current cloud product offerings, across the many CSPs. It includes cost, pricing models, product certifications and more and all information is available specific for all datacenters of the providers globally. It lists both IaaS products like compute or storage, but also many of the PaaS and CaaS offerings.
Given the basic information about on-premises server infrastructure, components and technologies used to run an application, the Cloud Knowledge Engine browses its catalog of known cloud resources on behalf of you and recommends various possible product options for a cloud move.
In Txture Cloud Scenario Simulations we make use of this to simulate a cloud move of your entire application portfolio at once. And we do it multiple times, depending on the different cloud strategy preferences that you want to evaluate and compare.
Taking Actions
Once simulations are done, you can compare the outcomes across different evaluation perspectives, like provider distribution, total cost, service model distribution or proposed migration strategies along the 6R's.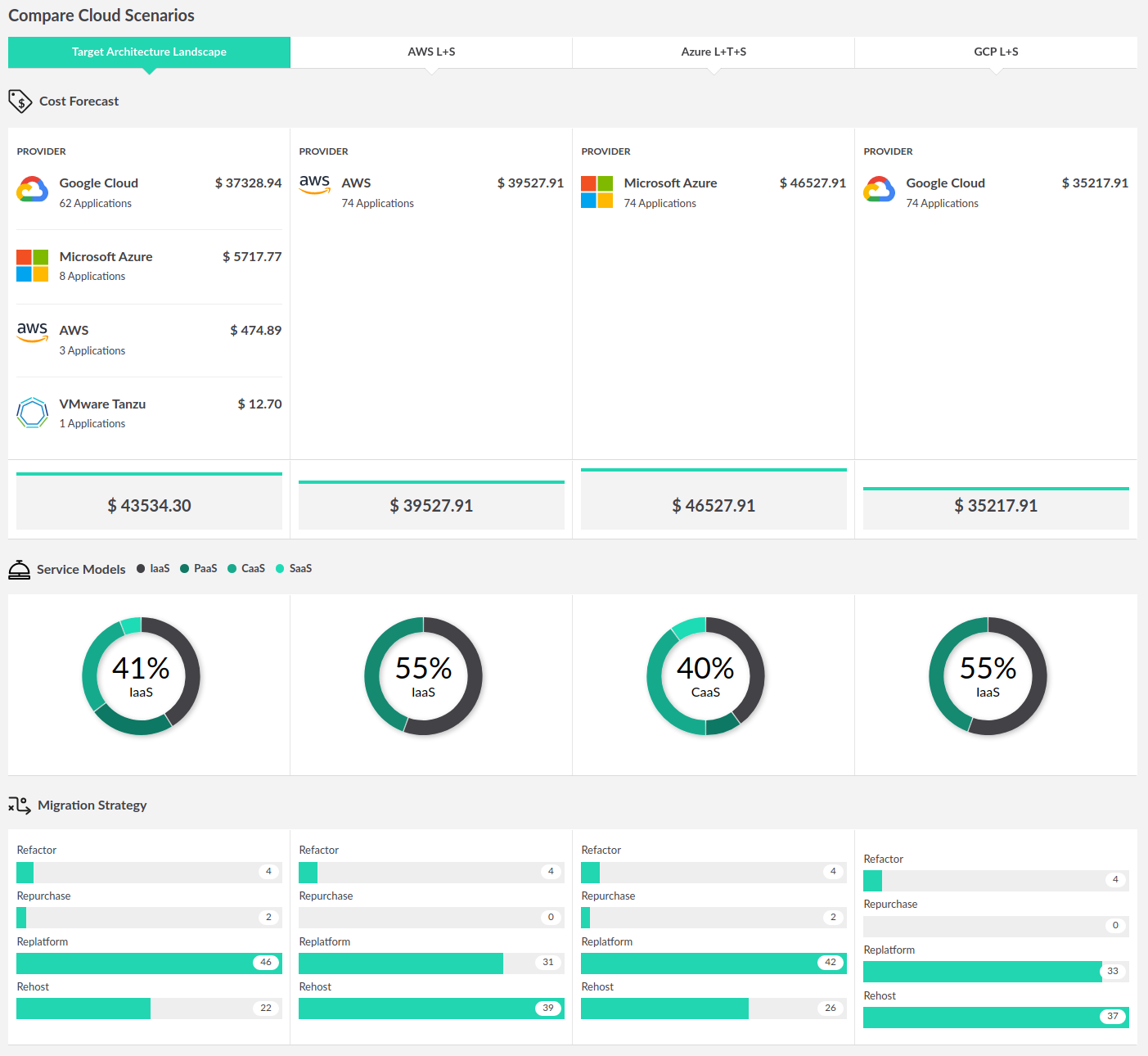 High level comparison of a PaaS-enabled multi-provider strategy versus single providers with an IaaS focus.
This greatly helps to see advantages and gains e.g. of single provider vs. multi-provider strategies, IaaS-only vs. containerization approaches and expected migration efforts as you may have to perform increasingly more replatforming activities.
Simulations enable comparing cloud target states in a high-level, aggregated manner. Still, in case you need to drill down deeper into each simulation, you can always do so by accessing the underlying target state architecture.
For a specific target architecture you can simply make use of Txture's standard and custom analysis and reporting capabilities. E.g. you may be interested in the use of different cloud technology variants or would like to visualize the full cloud deployment stack of a single application.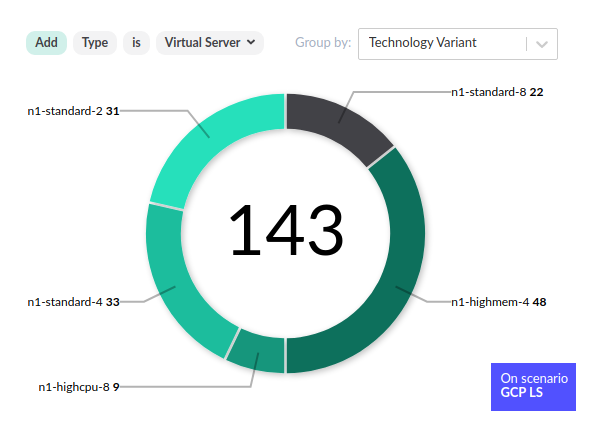 Standard reporting capabilities like aggregations or dependency trees applied to the outcomes of a specific simulation.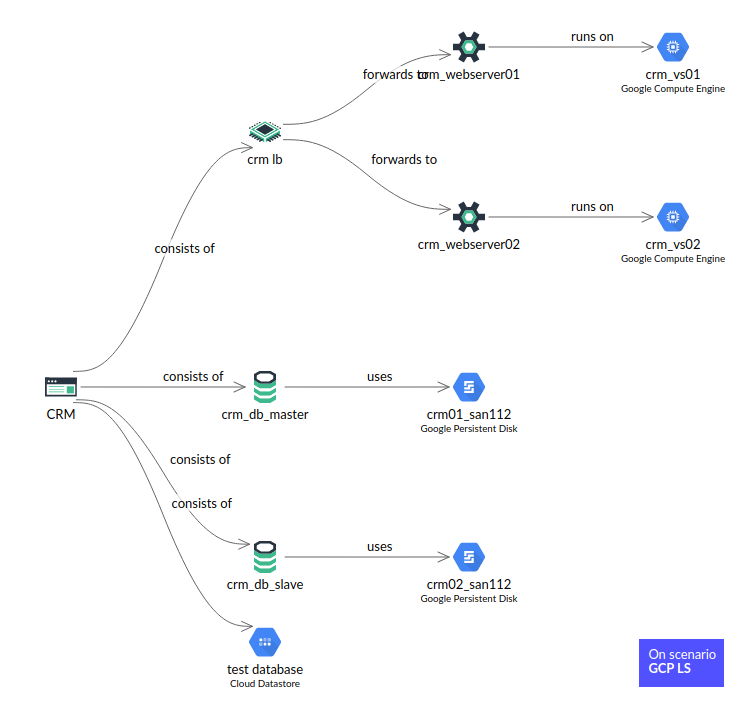 Standard reporting capabilities like aggregations or dependency trees applied to the outcomes of a specific simulation.
Added Values Summarized
Fully automate the laborious task of selecting alternative cloud services for large application portfolios.
Re-use collected application data as a baseline for detailed cloud readiness assessments and migration plans.
Create or tweak your primary cloud strategy by evaluating it against other viable alternatives.
Compare cloud strategy preferences based on actual simulation outcomes in order to plan a cloud move.
Enable business case analysis and strategic decision making.
Gain the required confidence to commit to your journey to cloud.
---
You need to simulate different transformation scenarios? Have we sparked your interest in exploring the new version in a hands-on demo? Feel free to request a free demo or contact us for more information!