We achieved another milestone - Txture version 24 is available!
Besides improving performance and usability, we particularly worked on the following functional areas:
New Capabilities for Data Integration
Scripted Importer Datasource
Txture provides a wide array of flexible importers. However, in very specific scenarios, you may want to create a heavily customized import pipeline. For this purpose, Txture offers the Scripted Import Datasource.
As the name implies, such a datasource stores a user-defined executable script which is carried out by the Txture server to provide the raw data for the import. This script may contain arbitrary internal logic for data fetching, merging, filtering or cleaning.
Movere Data Source
Movere by Microsoft automates discovery, scanning, and collection of IT infrastructure data. It scans and gathers a comprehensive inventory of the entire IT environment. From version 24 on, Txture adds a new vendor-specific data source to build on top of Movere based discovery results out-of-the-box. With this new integration, Txture is further expanding its capabilities in the area of initial application discovery and will strongly continue to do so.
Management of Shared IT Components (BETA)

Txture's cloud knowledge engine takes your cloud strategy to generate optimal migration recommendations based on your requirements. In doing so, Txture generates a variety of target architecture proposals based on your current application and IT infrastructure landscape for each application. Txture allows to compare proposals based on the prices, cloud providers such as Microsoft Azure, AWS, or Google Cloud, used technologies, and much more.
From version 24 on, proposals can now be analyzed on an application portfolio level. This BETA feature helps to identify situations in which IT components drive multiple applications, but their decided target cloud replacement is inconsistent across those applications.The Target Architecture section in Txture's Transformation Cockpit shows any conflicts your portfolio cloud target architecture might have and makes it easier to come up with a decision on how to optimally proceed.

Example of a conflict shown in the Transformation Cockpit: The virtual server is once replaced and once removed. Txture now helps to identify conflicts.
One option is to review individual application target architectures that are the source for conflicts and decide to split the application target architectures. In the example above you may conclude that the one application should actually not rely on the conflicting virtual server anymore. In another situation, you may decide to split a once shared database into two data sets as you restructure it and in order to pursue a deployment both with Google Cloud and AWS.
Another newly available option is to declare the conflicting IT component as an actual shared component. E.g. compute clusters or central databases can be handled that way to express the use of it by multiple applications in the portfolio cloud target architecture. This makes all assessments and suggestions concerning the overall cloud target architecture even more realistic regarding expected costs or proposed cloud product instance sizes.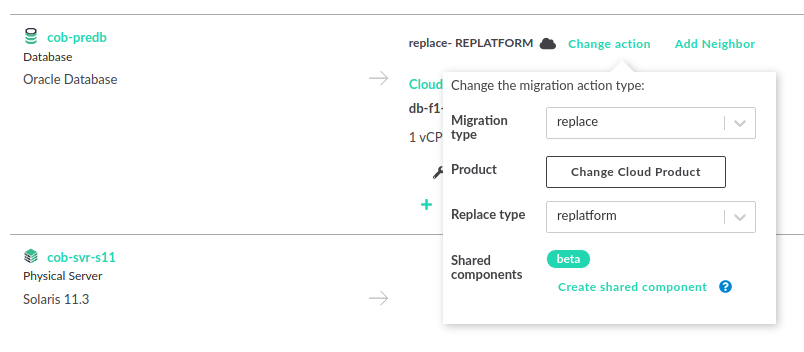 Change actions for proposed cloud product targets now include the option to declare the IT component as a shared one, allowing other applications to reuse them in their deployment stacks.
Feature Permission Management
With version 24, we comprehensively expanded our permission system. While permissions primarily had been managed on a data model/structure level so far, now individual areas of the platform can be activated or deactivated for users and roles. E.g. a user can be allowed to enter asset data via surveys without granting access to the repository or reporting capabilities, or automated data collection can be isolated for certain roles.
This separation leads to advantages both from a security point of view as well as in terms of practicality, as complexity can be reduced to get users started quicker with Txture based on a compact set of relevant functionalities.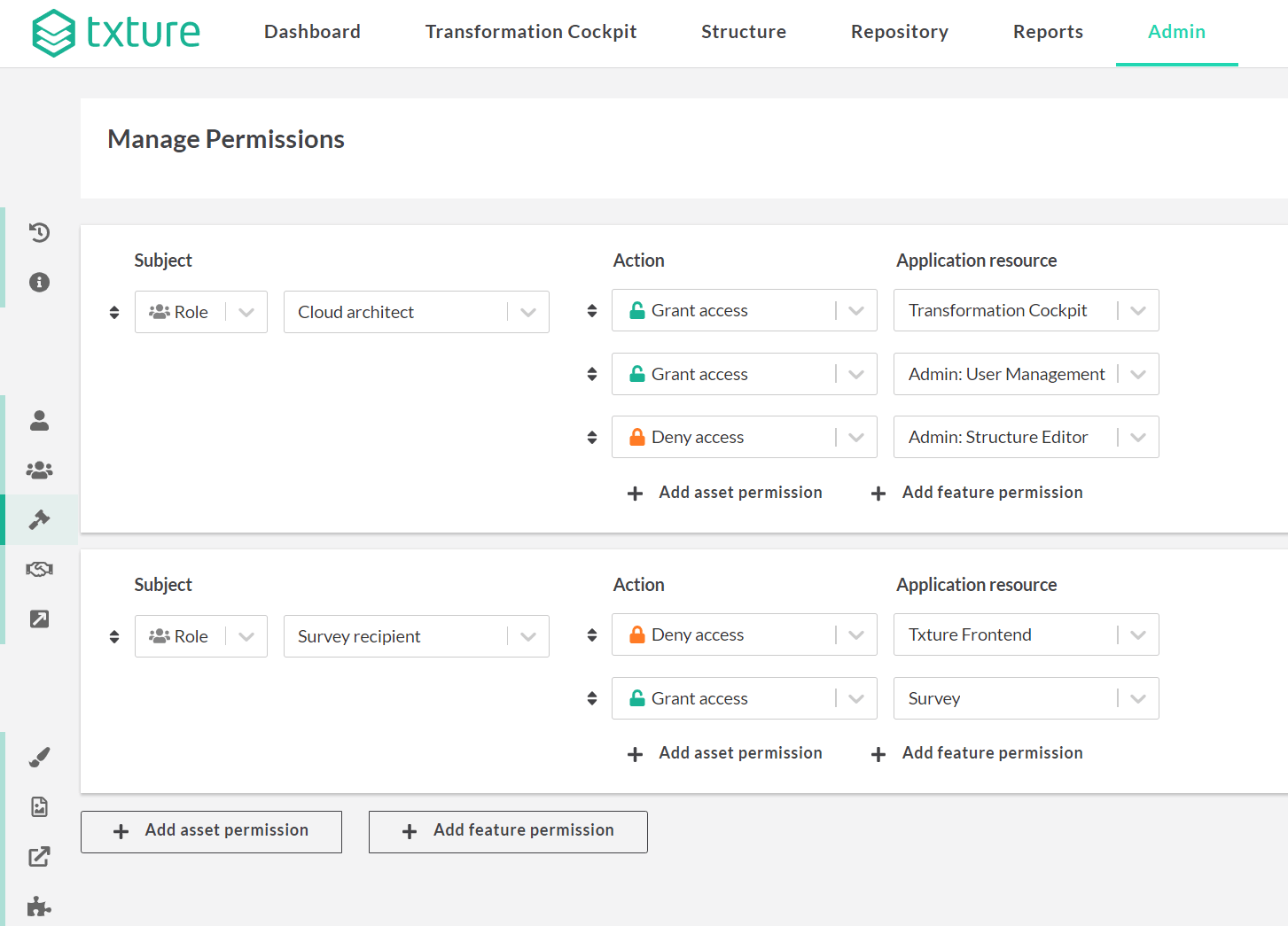 Example of admin feature permission: Txture V24 allows roles and user-specific access to features and components of the platform.
What's more?
JSON Exports
In addition to CSV, reports can now also be exported in JSON format under a stable URL. This makes it a lot easier to access both assets and links from a single URL. Especially nested data can be processed better.

Target architecture proposals PDF Export
Target architecture proposals can now be printed or exported to PDF. Such exports can be used as project deliverables or blueprints for detailed migration planning.

Improved report type: Tree and Gantt Chart
We added new features to the Tree report type and the Gantt chart. Tree reports now allow horizontal alignments of assets of the same asset type. Gantt charts are now sortable.
---
Are your fingers tingling? That's the urge to try out our new version.
Feel free to request a free demo or contact us for more information!