New Txture release is out! For version 19, we have tuned our Cloud Transformation Platform in different areas to expand our offer and to increase performance and usability. We particularly worked on the following functional areas:
Migration Strategy-centric Target Architecture
From version 19 on, Target Architecture proposals are directly integrated with the assessment results and the decided migration strategy. Now, for each 6 R Migration Strategy, target proposals are generated. This allows you to find suitable target architecture solutions for your applications. You can compare prices across different cloud providers and get detailed information about the cloud products that will be part of the application target architecture.
In order to make this possible, we reorganized the Target Architecture section in the Transformation Cockpit and made it "migration strategy-centric". Cloud target architecture proposals are now summarized based on the 6 R's Cloud Migration Strategies: Replatform, Repurchase, Rehost, Refactor, Retire and Retain. Build on the cloud assessment results the most suitable cloud proposals are ranked on top of this page.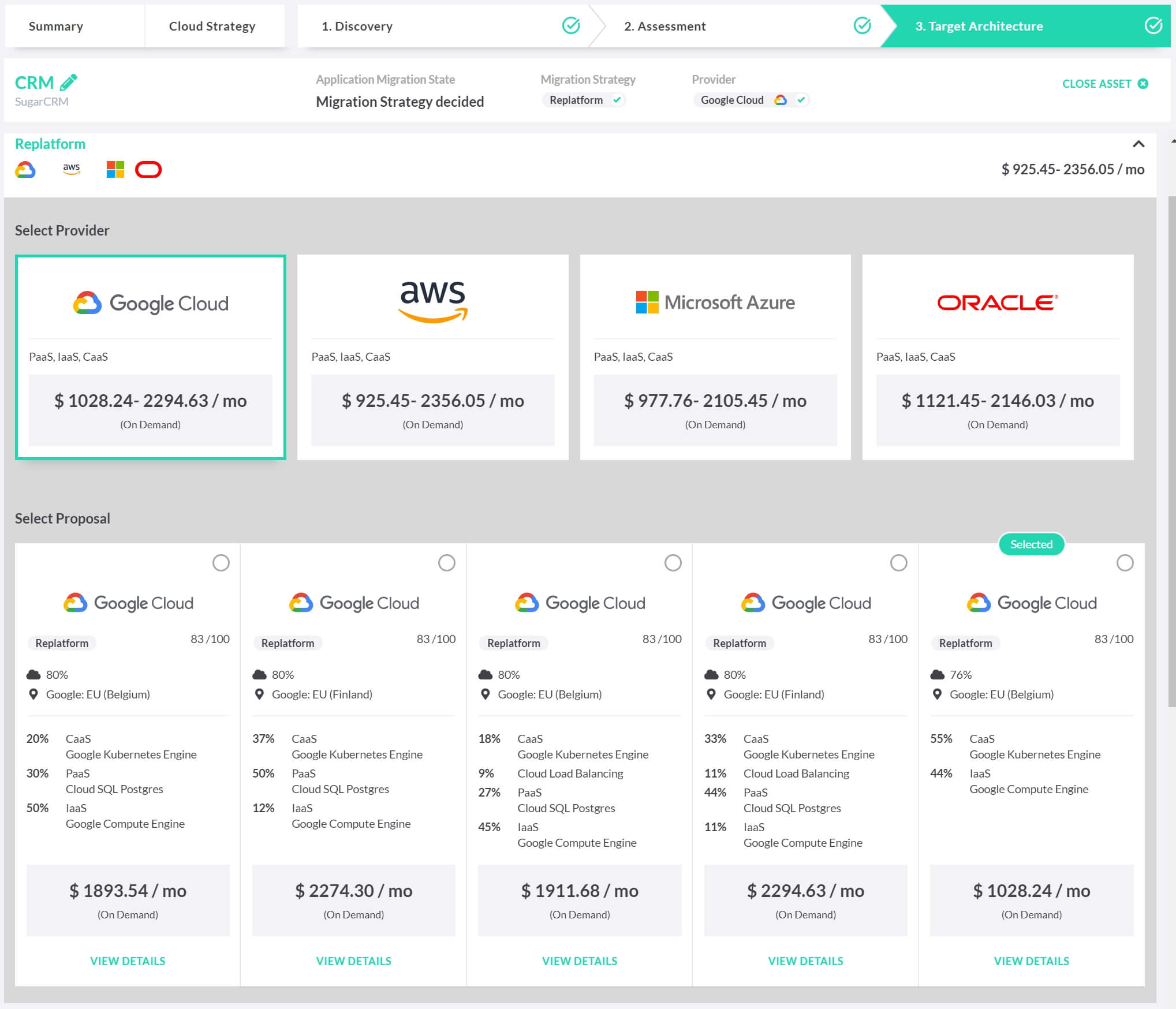 New migration strategy-centric Target Architecture section in Txture's Transformation Cockpit.
Enterprise-wide discounts for cloud providers
Does your enterprise have discounts or special contracts with a cloud provider? If so, this might highly affect your choice for a preferred cloud provider.
Txture v19 allows you to take into account discounts globally or for a single application. Reductions in prices are considered when generating cloud target architecture proposals. Accordingly, providers offering a discount are ranked higher.
Besides cost savings, this puts you in a strong negotiating position with the cloud providers. The provider who grants you the highest discount has an improved chance of being ranked higher and getting your orders.

Enterprise-wide cloud provider discounts can now easily be taken into account.
Identify Application Cloud Readiness, Risk and Benefit
During the Cloud Readiness Assessment, the cloud compatibility of your applications is estimated. The key metric that we have calculated so far during the assessment is an application's Cloud Readiness. We now have added two more key indicators to our assessment results: The application's Cloud Benefit and the expected Migration Risk.
The Cloud Benefit is valuable information to determine an application's priority on the migration roadmap and to estimate, how much effort can be justified when transforming an application. Applications with a high Cloud Benefit might be migrated earlier to achieve quick-wins on your journey to cloud.
Application having a high Migration Risk might be migrated at a later stage so you can gain transformation experience first. Also, for these applications, it must be weighed whether a transformation makes sense at all.
The redesigned scatter plot in the Transformation Cockpit's Assessment section provides you with quick insights about the Cloud Readiness, Migration Risk and the Cloud Benefit of your application portfolio.

Scatter plot shows all combinations of Readiness, Risk and Benefit.
---
Have we sparked your interest in exploring the new version in a hands-on demo? Feel free to request a free demo or contact us for more information!