Our new Txture release is out! We are very happy to announce the 20th version of our Cloud Transformation Platform. Hooray!
For this anniversary version, we have significantly expanded our product in various areas. We no longer keep you in suspense - here you go!
Interactive Modeling of Target Application Architectures
In prior versions, you could already access a wide variety of automatically generated proposals for your applications' cloud target architecture. This made it possible to quickly and efficiently build blueprints and cloud shopping lists based on your or your client's cloud strategy and the on-premises architecture of the corresponding applications.
However, the option to manually adapt automatically generated cloud proposals and to allow the user to incorporate know-how about the application in the application's target architecture was still missing and was highly requested by our customers.
In our version 20, we made this possible! As before, you can rely on a variety of automatically generated and suggested cloud target architectures for your applications. To make those proposals even more effective you are now able to adjust them manually and e.g. replace suggested products entirely or change the sizing of individual cloud products. This ability is especially helpful in cases where you need to reflect specific technology choices coming from application owners or you want to consider future growth in your product selection respectively.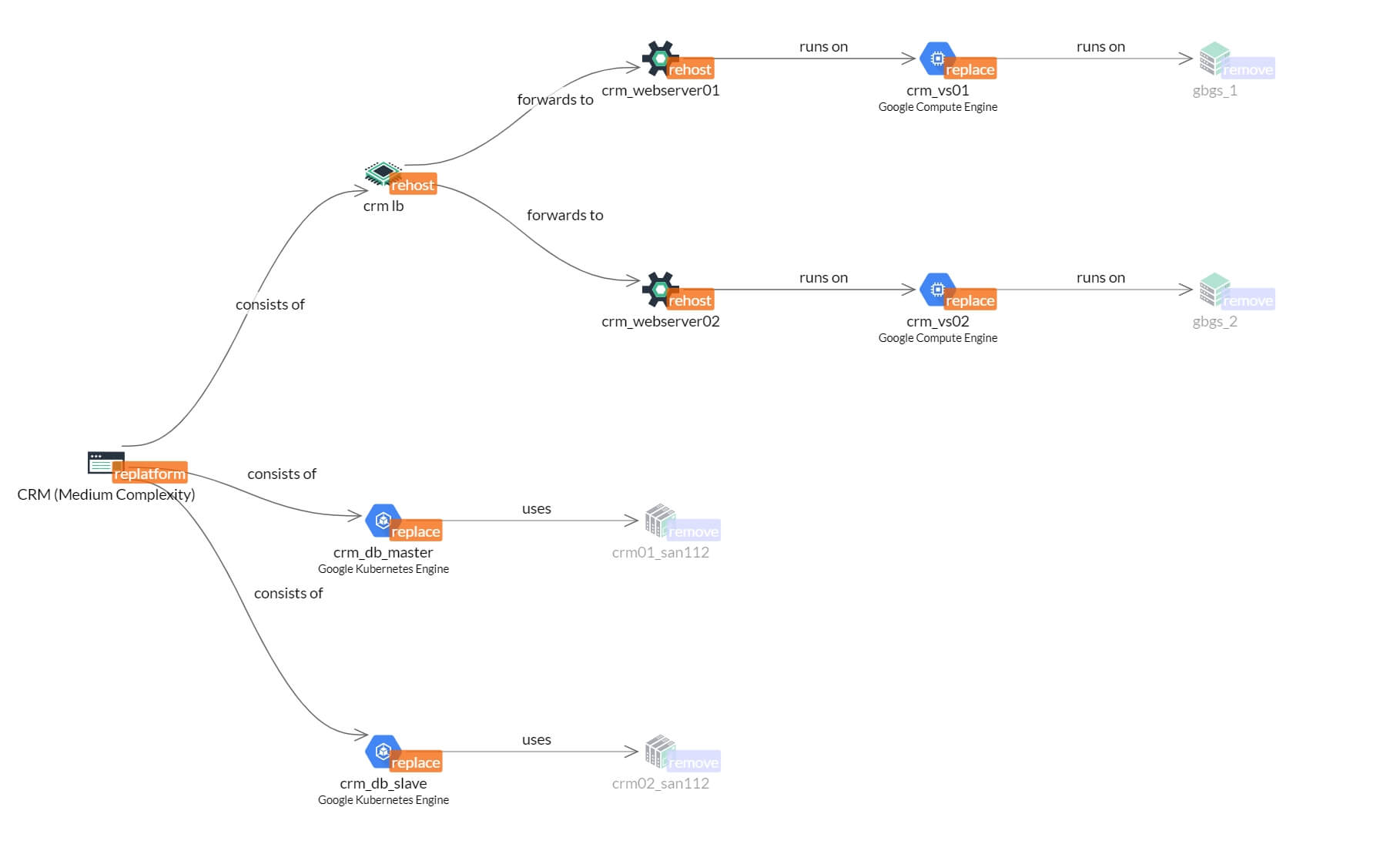 Cloud proposals are generated in the Transformation Cockpit.
In addition to the adjustments of cloud products and sizing, it is now even possible to change the type of migration for single technical components of the deployment stack. For example, you can tweak a cloud proposal to retain a web server installation on a VM, in case you know that you won't use a platform service
After you are done with your customized cloud proposal for an application target architecture, you can save it. All calculations, such as the estimated prices for different pricing models, cloud services and locations are immediately calculated for all of your customized target architecture proposals as well.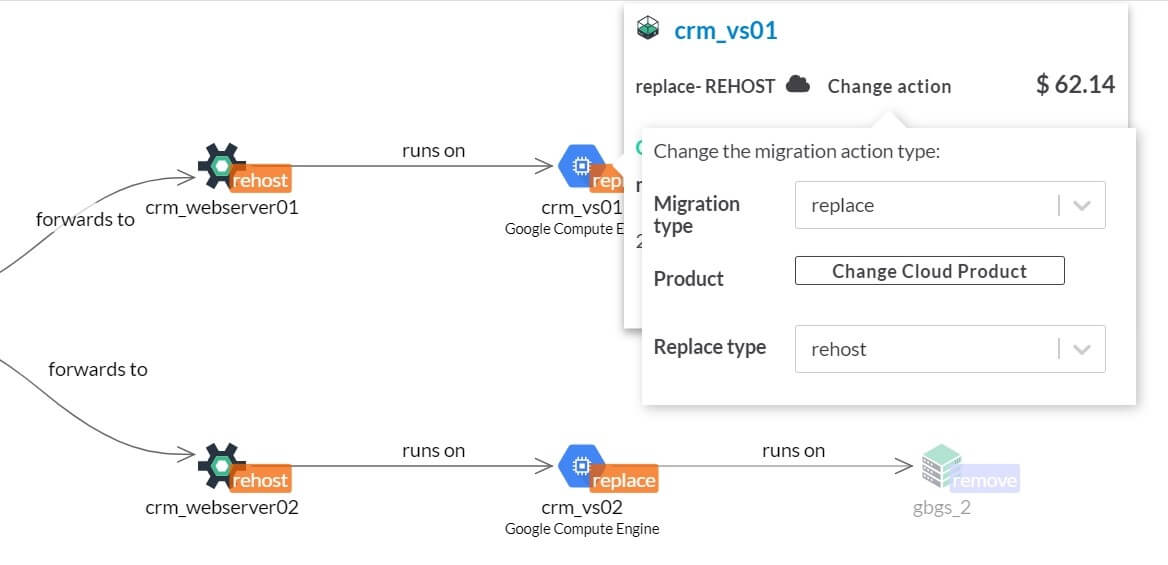 Interactive cloud proposals allow the adjustment of products, instance sizes or the migration strategy of single components of the deployment stack.
Assessment Rules Customization
Cloud assessment rules is the central tool kit to assess your or your clients' application portfolio. We use our cloud assessment ruleset to analyze a variety of aspects of each application in a fine-grained manner and to calculate the most important key indicators of an application during the assessment: these are the cloud readiness, migration risk, the cloud benefit as well as 6R migration strategies.
Many interesting findings in the course of our previous cloud assessment projects for our customers made it possible to continuously expand the set of assessment rules, factoring in more and more important assessment perspectives.
Depending on customer preferences or industry, assessment rules have to reflect divergent significance for different assessments. While analyzing one aspect is very important in one project, the same aspect might be secondary in another project. Therefore, we now allow rules to be weighed individually.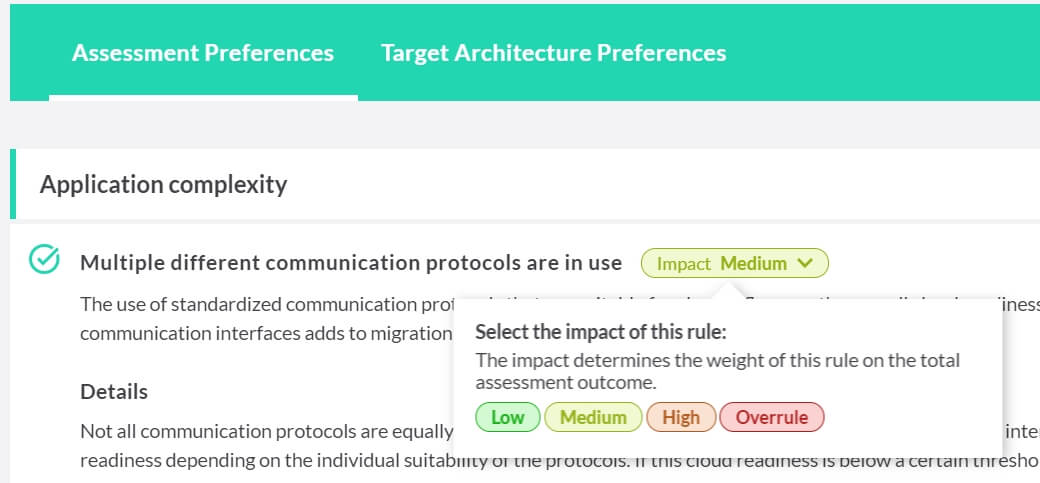 You can find the set of assessment rules in the Assessment Preferences in the Transformation Cockpit.
From version 20 on, you can use the drop-down menu to adjust the impact a rule has on the cloud assessment's outcome. In addition to choosing between a low, medium, or high impact of a rule on the assessment, you can decide if a rule should take precedence in the assessment by selecting overrule.
CAST Integration
Our new partnership allowed us to build an integration with the leading vendor of solutions rapid application portfolio and source code analysis on the market - CAST. In addition to the already existing integration with other market-leading tools of different domains, the integration with CAST Highlight represents another great step to make the Txture Platform even more powerful.
The out-of-the-box integration with CAST Highlight enables the use of detailed assessment results on the source code and software architecture level of your custom code application portfolio. This especially supports Txture's decision making on application refactoring recommendations.
We offer our customers an end-to-end transformation management experience and starting with version 20 of Txture, by complementing it through source code analysis for software cloud readiness with the support of CAST Highlight.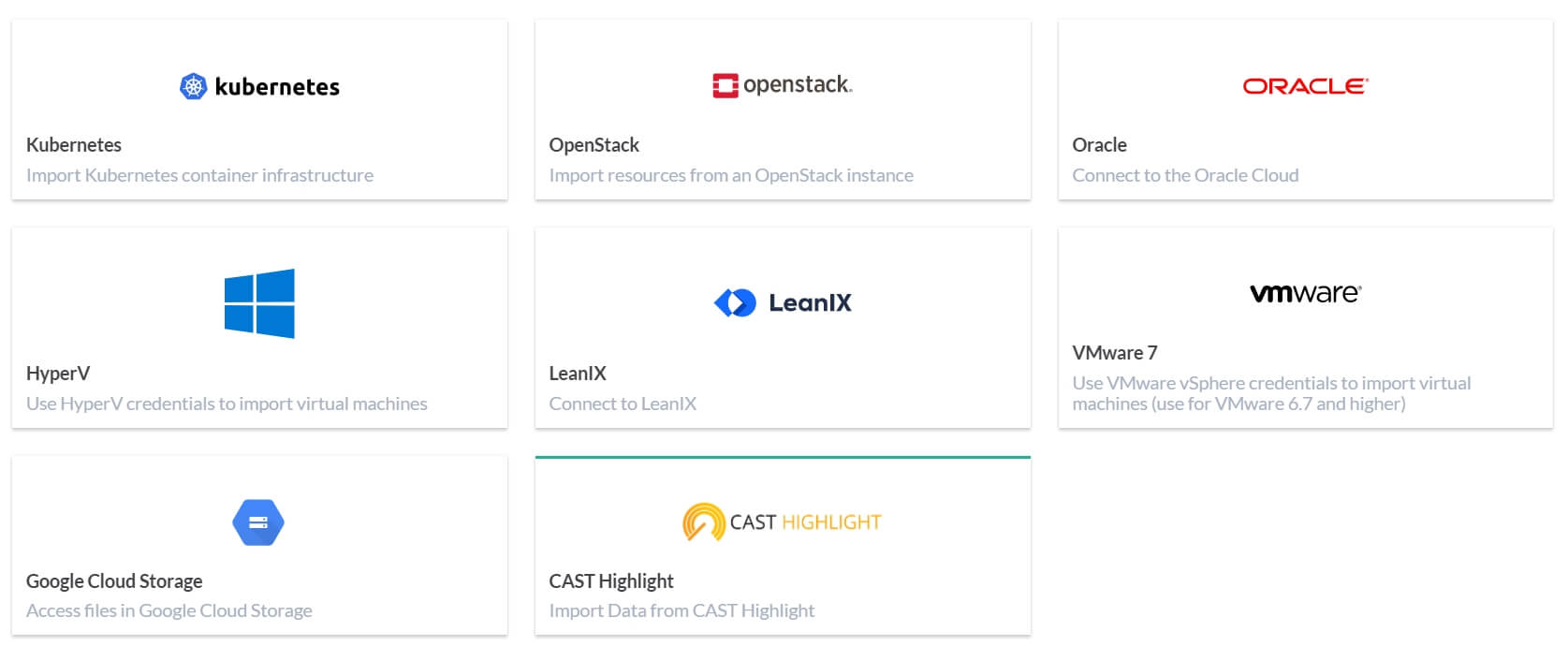 Txture now offers more than 30 vendor-specific and generic data integrations.
In addition to the innovations mentioned, we have also worked on a few other topics:
We added storage systems to our cloud knowledge engine. Consequently, cloud proposals and especially price estimates got much more complete.
Cloud replacements for target architecture proposals now correctly take into account clusters, such as database or compute clusters. This makes it easier to analyse VMware, Kubernetes or Docker deployments as well as replicated databases and find suitable cloud architectures.
We added a new report type - the chord diagram. It is especially useful to visualize direct and indirect dependencies, e.g. the communication relationships of applications via their provided interfaces.
---
PS: For the twentieth release anniversary, we have prepared something special for you in the next blog post. A personal interview with our CTO, Thomas Trojer, with insights into his role, his favorite release so far and much more. Be curious!
Have we sparked your interest in exploring the new version in a hands-on demo? Feel free to request a free demo or contact us for more information!