In this part of our Cloud Cost Optimization Series, you will learn how Txture can be used to make the cloud transformation a financial success. Especially in large-scale cloud transformation projects tool-support gets more important since spreadsheet-based approaches lack scalability and optimization capabilities. While in my last article I gave a theoretical overview of four key strategies to save costs in the individual phases of the cloud transformation process, in this post I will take a closer look at Txture's features that help you to put these strategies into practice and save costs during large-scale cloud transformations.
1. Cost saving through application rationalization
The increasing complexity of enterprise IT, extensive application portfolios, and aging system landscapes are major drivers for costs and inflexibility. Thus, a key way of reducing complexity and thereby cut down costs is to diminish and rationalize the application portfolio. Txture makes it possible to analyze your application portfolio from business, security, compliance, and technical perspective and determine whether an application should be shut down (6 Rs: "Retire"), replaced, or might be a potential candidate for further investments like a cloud migration. In doing so, Txture automatically assesses each application's deployment stack, all dependencies to business processes, organizational units, and other applications and, last but not least, important information about the application itself and used technologies. Based on this information, Txture calculates a Cloud Readiness score, estimates the expected benefit of migrating an application to the cloud, and gives the user an indication of how risky a transformation will be. Based on these assessment results, Txture recommends to either Retain, Retire or Migrate your application. In the case of Migrate, the suitable Migration Strategy and Migration Timing are also suggested.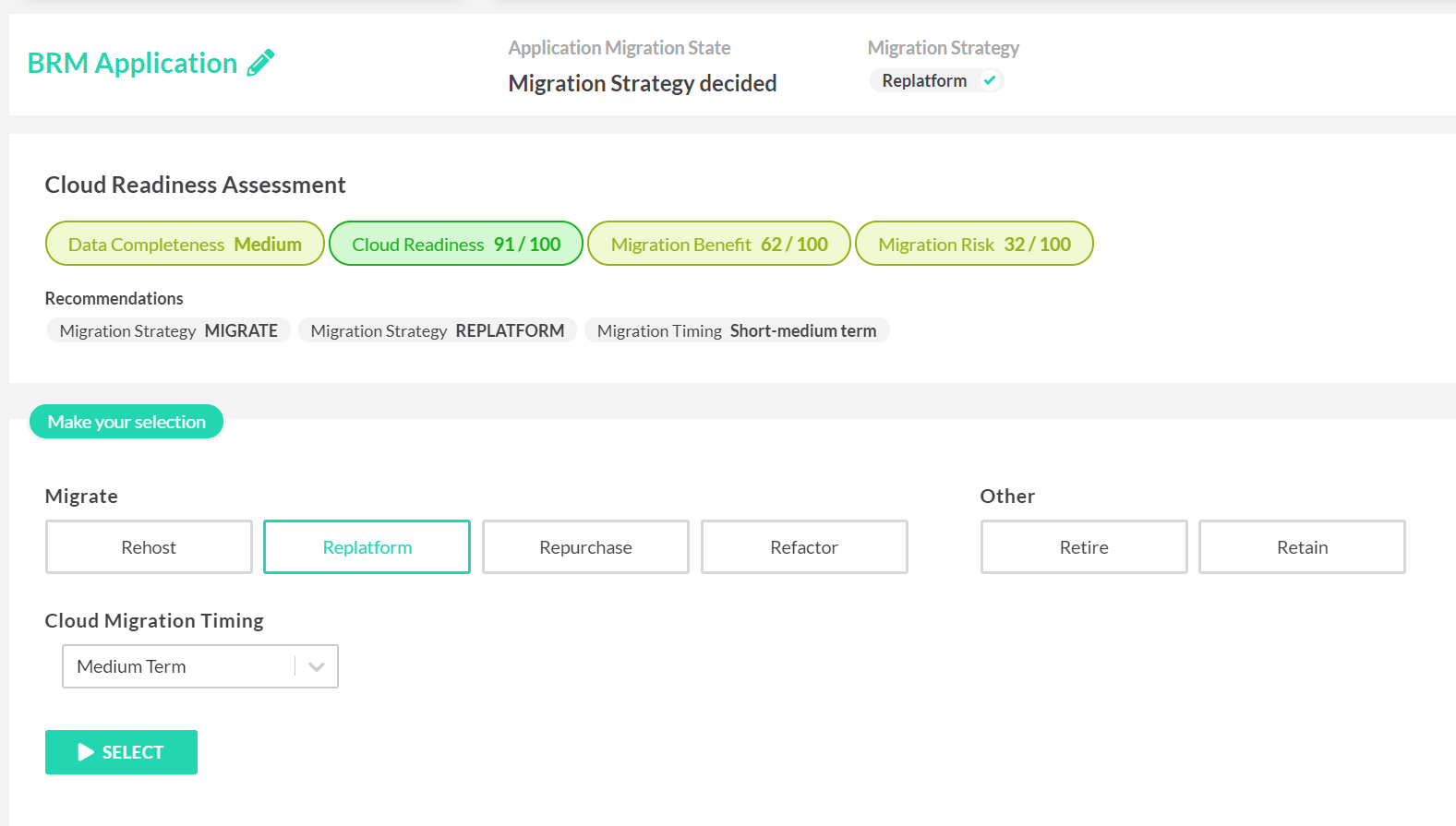 The Cloud Readiness Assessment is part of Txture's end-to-end cloud transformation process.
The Cloud Readiness Assessment helps to identify applications that are at or near to its end-of-life, use outdated technologies, or provide business capabilities redundantly. If you reduce and rationalize your application portfolio before the cloud transformation, you will save lots of unnecessary migration costs.
2. Cloud Business Case Analysis
Besides the application portfolio rationalization, part of the assessment phase is conducting a business case analysis. The cloud business case analysis provides insight into whether it is financially sound to operate an application in the cloud. Txture aggregates infrastrastructure and software costs up to the application level. The costs of running a specific application in the cloud are automatically calculated for all major cloud providers, such as AWS, GCP, or Microsoft Azure. This makes it possible to compare accumulated on-prem costs with expected cloud costs and to calculate a cloud business case for each application.

The Cloud Business Case should be calculated for each application to ensure financial viability of migrating an application to the cloud.
3. Cloud Provider Comparison & Negotiation
Comprehensive knowledge of the cloud providers' offerings and products is required to compare and decide for specific cloud products. Most providers offer similar products, but small differences might be decisive. For example, cloud products from Azure, AWS or GCP may be certified differently, but are not always globally available in certain instance designs or versions, or have differences in price or provisioning. Txture Cloud Knowledge Engine knows the strengths and weaknesses of a wide variety of providers and their products. For each assessed application, Txture generates a variety of cloud target architecture proposals taking into account prices, products and product instances. On the one hand, better comparability of the providers acts as a tool for negotiating with the providers. On the other hand, it helps you to make the right choice of the provider concerning cloud cost savings and cloud cost optimization.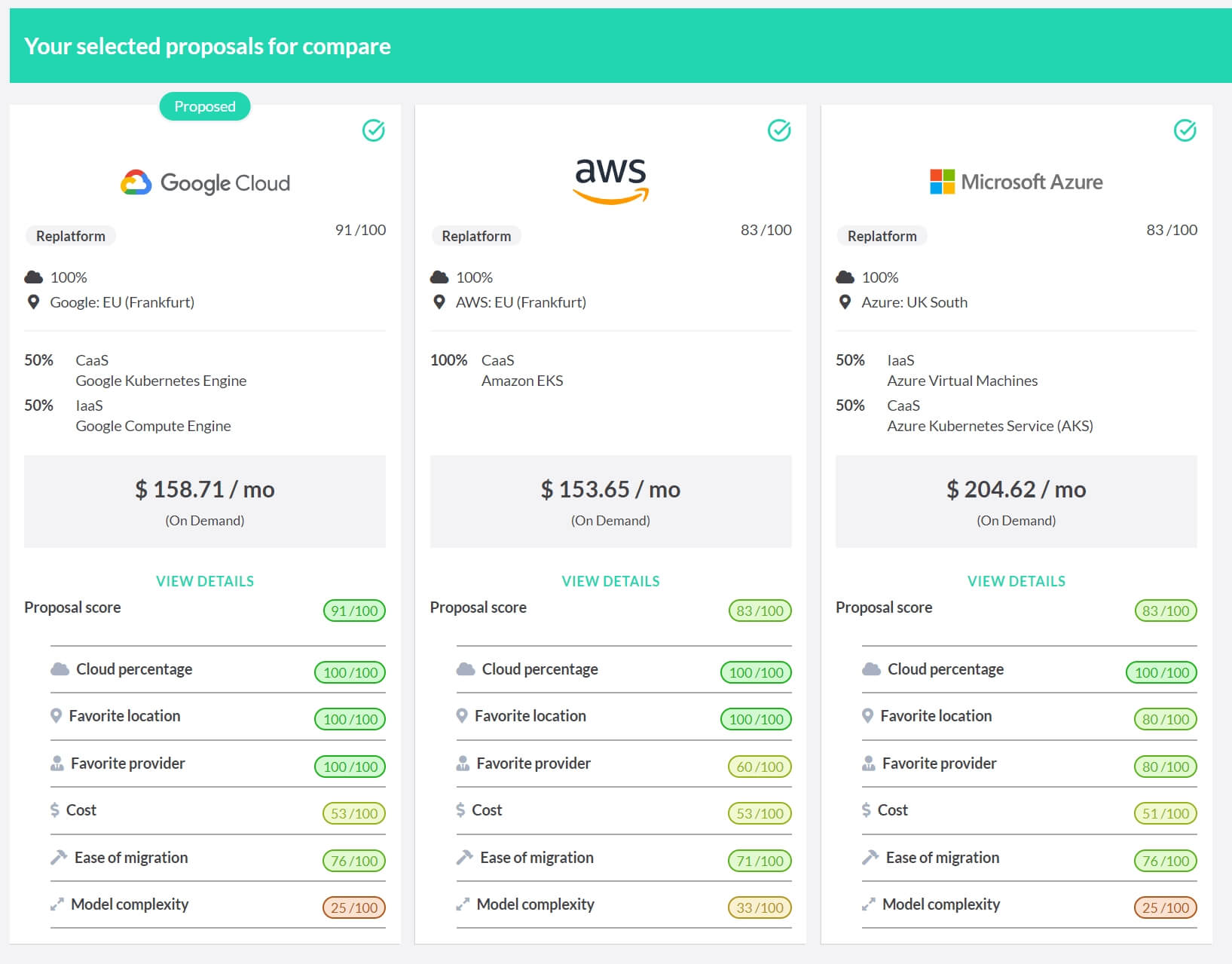 Txture allows to compare different target cloud architectures and expected prices for different cloud providers.
4. Cloud Right-Sizing & Reserved Instances
In addition to the above-mentioned features, Txture offers two more options with which you can optimize your cloud costs while planning the cloud target architecture of your application. Taking into account utilization information of your on-prem servers allows Txture to directly propose right-sized cloud VM instances for the target architecture, no matter whether an instance should grow or shrink in the cloud. This helps to avoid unnecessary expenditure for oversized machines and, in the event of overloads and bottlenecks, stronger machines are automatically proposed. This way, right-sizing is used to improve costs and performance from the outset.

Txture's right-sizing feature allows optimal utilization of cloud instances and thus reduces cloud costs.
Also, cost savings of up to 50% can be achieved through choosing alternative pricing models such as reserved instances. A potential disadvantage of such reduced pricing models is a lock-in effect on services over some time. However, based on carefully planning the target architecture, you already know what services you will use over the next few years. Txture allows cloud provider cost comparison, determination of price models for an application's cloud target architecture as well as the differentiation between on-demand prices and discounted prices. Prices for commitments are compared for different time ranges. This way, you can reduce the expected cloud costs for an application but also take into account the level of flexibility you need.

Taking into account different cloud cost models, such as reserved instances, during the target architecture planning can reduce future cloud costs fundamentally.
This way, you will benefit from the outstanding capabilities of different providers, the diversity of price models and therefore save costs. At the same time, you can increase the reliability of your portfolio by dividing the risk between different providers.
---
Have I sparked your interest in exploring Txture and its capabilities to save cloud costs on your journey to cloud? Seeing is believing! Reach out to me for more information or request a free, personal demo to see our Tool in action.
Not enough input yet? Want some more info concerning Multi-Cloud pricing and the comparability of cloud products & vendors? Download our whitepaper here: "Surviving in the Messy World of Multi-Cloud Pricing".