The cloud readiness assessment constitutes one of the most crucial but also quite laborious tasks in the context of cloud transformation. It is a comprehensive analysis of applications or entire application portfolios with regards to how easy it is possible to move them to the cloud, what costs would be involved and how the transformation impacts the IT infrastructure and consequently the business of an organization.
At Txture, we have made it our task to automate and speed up the cloud readiness assessment as part of a holistic approach for the cloud transformation.

The (Cloud Readiness) Assessment as the second phase of the holistic cloud transformation process forms the essential basis for subsequent transformation planning and roadmapping.
Why Do We Need a Cloud Readiness Assessment?
Based on application infrastructure data that has been collected during the discovery phase, we need the assessment to be able to decide whether and how an application should be transformed. Derived from the results of our cloud readiness assessment we can decide for each application on the migration:
timing
order
cloud provider
and migration strategy
We understand the migration strategy as the 6 R's migration strategies which have largely established themselves as the recommended strategic approach for cloud transformations. If you don't know the 6 R's of cloud migration yet, check out our previous blog post The 6R's of cloud transformation and why you need to know them.
Generally speaking, the 6 R's define if or how an application and all of its components are to be migrated. Each of the 6 R's entails a different way of migrating or not: rehost, replatform, refactor, repurchase, retire/rationalize, retain.
Challenges During the Cloud Readiness Assessment
Since information about applications and infrastructure data are often widely dispersed in the organization and with various application owners, the discovery of the required application data can be the first challenge even before starting with the assessment. During the assessment, recognition of far-reaching effects of the transformation poses a challenge. In addition to effects on the application architecture and related technical dimensions, the impact on the ongoing business operations and processes have to be taken into account. Especially during the migration phase, business processes can often only be carried out to a limited extent or not at all. Moreover, transforming an application may have strong implications with regards to data security and privacy issues. Along with this, legal regulations in the cloud are changing too. All those aspects have to be considered carefully.
The application transformation has a strong impact in many ways. The cloud readiness assessment, therefore, is a crucial task that is required to identify applications that are easiest to migrate and guarantee a quick first success during your cloud journey. Since a careful analysis of all influencing factors for each application involves considerable effort, tool support for the assessment is essential.
Cloud Readiness Assessment with Txture
Txture's Cloud Transformation Platform quickly analyzes the cloud readiness of your application portfolio. Important is that the assessment is performed at application-level taking each application's business, security, compliance and technical requirements into account.
In the following, we would like to briefly introduce you to how the assessment is done with Txture.

1. Automated Discovery
Txture collects data about your on-premises application and IT infrastructure landscape from diverse data sources, such as virtualization environments, existing EAM tools, monitoring systems or your CMDB. This saves your team time and resources collecting the necessary data for the assessment.
Even more importantly, Txture's built-in assessment surveys reduce the effort to collect information from application owners at scale.
In addition, Txture provides a variety of generic data connectors e.g. for REST-Interfaces, SQL or CSV. This makes it possible to tap into nearly any existing data silo in your organization.
2. Assess Application Data Completeness
In the next step, Txture calculates the completeness of your collected data and indicates missing data. To ensure that all factors are taken into account, sufficient data completeness is important. However, Txture can also provide hints and recommendations even with a relatively low level of completeness. Large gaps that must be filled are highlighted.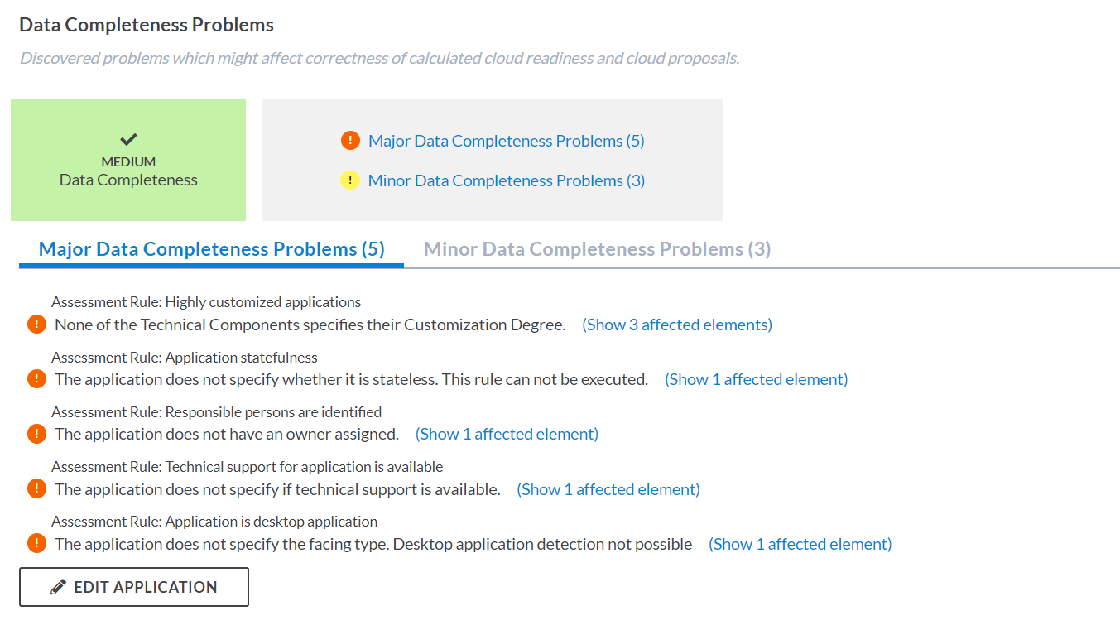 Major and minor data completeness problems : affected assets are listed and can directly be adapted.
A lack of quality of existing data sources can make it necessary to improve your data completeness by collecting application data directly from the organizational units or application owners. To support this often tedious task, Txture integrates automated assessment surveys and MS Visio-like manual modeling. Particularly in the analysis of complex dependencies the wizard-based surveys have proven to be real time savers.
3. Cloud Readiness Calculation per Application
Next, based on discovered application data, Txture analyzes the cloud readiness of each application taking into account configurable readiness rules concerning business, security, compliance and technical aspects.
A total score is calculated for each application, which results from the four subscores shown in the screenshot below. Also, results include recommended migration timing, migration strategies (6 R's) and strategic cloud providers for each analyzed application.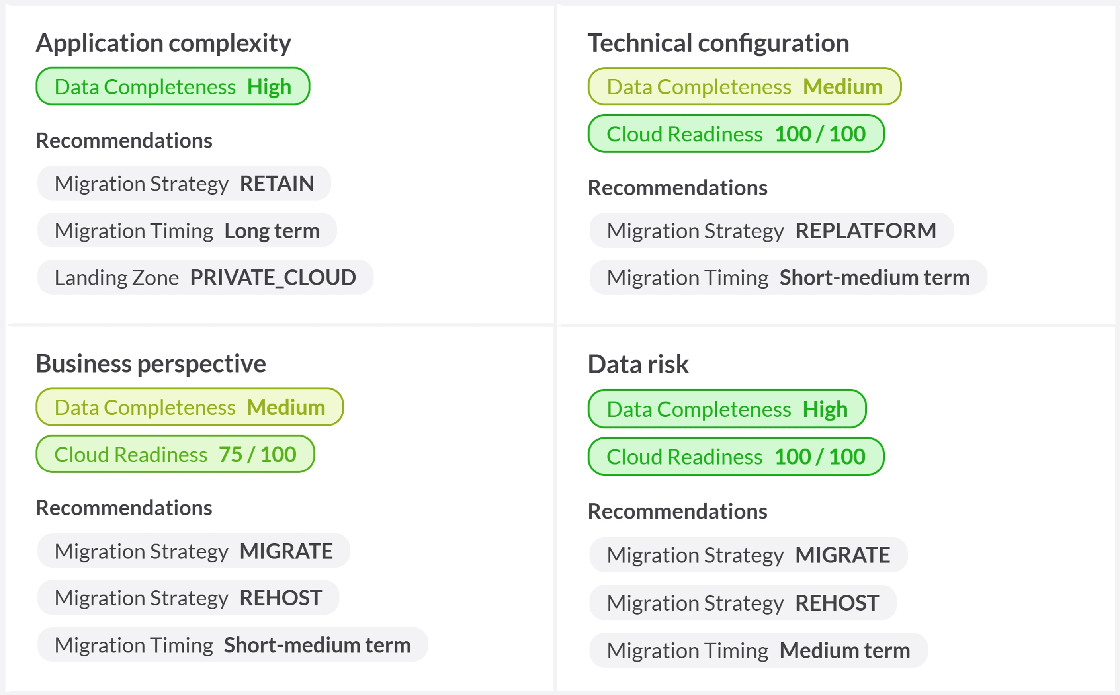 Txture takes into account four aspects for the cloud readiness assessment and calculates a score for each one.
4. Portfolio's Cloud Readiness
Now that we know each application's scoring, applications get compared with each other to create a migration roadmap and start planning the transformation. You can get an overview of the cloud readiness of your entire portfolio to make transformation decisions keeping your overall strategy in mind.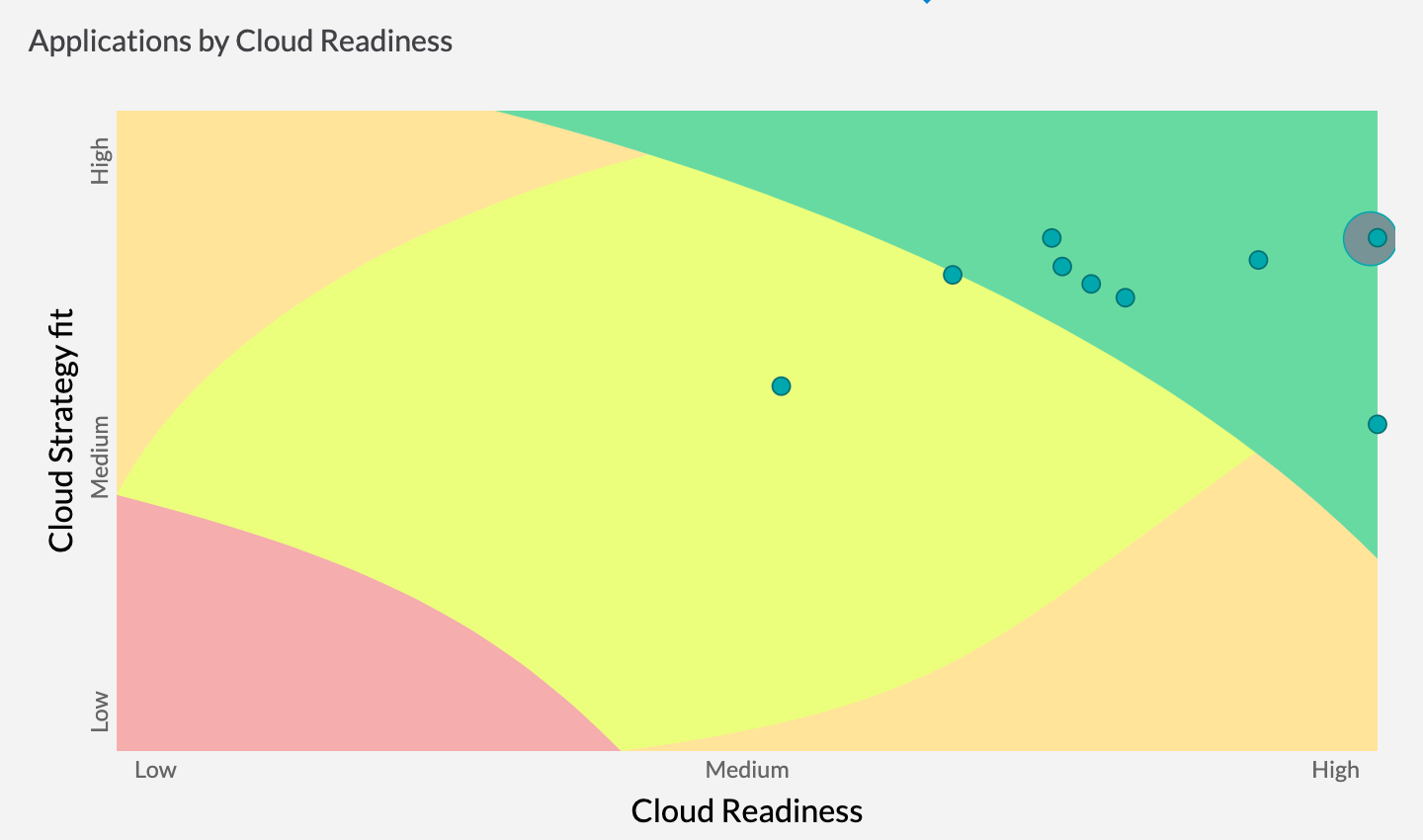 Exemplary report from Txture that provides insights into your portfolio's cloud readiness.
The cloud readiness assessment helps you to decide for each application, whether a transformation at the current time and with your current information about the application makes sense or not.
After the assessment, Txture supports phases of the cloud transformation process, such as the generation of target cloud architecture proposals or cloud cost estimates. However, we will deal with these topics in more detail in another article.
In case you need a structured approach for your transformation, please get in touch with us. Our platform Txture automates many tasks for you and helps to speed up your project!