Data center operations represent a large and growing portion of the total carbon emissions of any IT ecosystem. For 2022, the IAE reports that approximately 2% of global carbon emissions are attributable to digital technologies. This is already significant as the IT industry is still growing strongly. According to the report, global energy demand for data centers will increase by another 40% by 2030.
Companies are increasingly embracing their responsibility on this planet to achieve a low environmental footprint and are pursuing clear environmental, social, and governance (ESG) goals.
While digital technologies have their share of global greenhouse gas emissions, both in terms of production and infrastructure (as well as the energy required to operate them), they offer great potential for overall global emissions reductions. An intuitive example is the use of video conferencing as an alternative to physical travel, but there are almost limitless cases where technology-enabled automation and optimization contribute to a greener environment.
Cloud computing is a central building block for achieving sustainability goals
Over the past few years, the cloud has established itself as an essential technology for achieving these sustainability objectives. The immediate contributions of the cloud are:
By providing IT resources as a service to many customers, cloud data centers enable a streamlined utilization of IT resources.
Cloud data centers use modern, energy-efficient hardware that is frequently upgraded. Cloud service providers (CSPs) are even going so far as to build their own energy-efficient equipment, such as AWS EC2 powered by their Graviton processors, which consume up to 60% less power than comparable non-Graviton instances.
Cloud data centers are built with energy efficiency in mind. For example, in 2022, the trailing twelve-month Power Usage Effectiveness (PUE) of all Google Cloud data centers was 1.1, meaning that most of the energy is actually used to run the IT equipment and only about 9.1% is used for facilities, cooling, etc. This is far better than the global data center average for 2022, which was 1.55, according to the Uptime Institute.
Cloud data centers benefit greatly from (and are often located in) renewable energy regions. AWS states that by 2025, all operations will be powered by renewable energy, while in 2021, 95% of AWS regions were already powered sustainably and carbon-free.
Beyond these direct contributions, the cloud is the foundation for automating and optimizing many processes across all industries, making it a key enabler for achieving environmental goals.
Recently, mechanisms were also put in place to incentivize the lowering of carbon footprints. In Europe e.g. the EU Emission Trading System, the Renewable Energy Directive, and general standards like ISO 14001 or 50001, are followed by CSPs like Google Cloud and have measures embedded to gradually lower energy consumption.
Our consulting partners in the area of application (and infrastructure) assessments & transformations like Accenture see more and more client demands for Technology Sustainability projects:
Companies are typically looking for understanding and increasing their sustainability impact not as a standalone project but always related to their specific business and IT project roadmap.
They want to increase their technology sustainability by embedding it in their business (or IT) transformations like a journey to (green) cloud, carve-out, application modernization, or business process outsourcing program. With this approach, they can align business and sustainability goals e.g. energy consumption and simultaneously energy cost reduction.
Two concepts are typically used for categorizing technology sustainability:
Sustainability by technology to implement new, more sustainable business offerings or products, and
Sustainability in technology, which in the IT and Cloud context mainly means to reduce the ecological footprint of the existing application portfolio and the underlying (cloud) infrastructure. This is where Txture's CO2 emission and Energy consumption features come into play.
We often observe the challenge of our clients to identify, evaluate and report on the most promising Technology Sustainability transformation projects in a sound and meaningful framework. Ultimately, progress in technology sustainability needs to be mapped to the company's ESG reporting.
To overcome this challenge, we recommend the use of sustainability features of assessment and migration tools like Txture as part of the Accenture MyNav Tool-Suite as default in our projects. With this, we can help enhance transparency and steer transformations with built-in sustainability metrics.
Patrick Niesel, Tech. Sustainability Contact for Cloud Infrastructure & Engineering in Accenture for Austria, Switzerland, and Germany, focus on Application and Infrastructure Assessments.
How the Txture platform helps you build sustainable cloud infrastructures
We at Txture feel responsible too and are dedicated to helping our clients and partners to drive decisions along sustainability when they perform a cloud transformation or a cloud modernization initiative.
Our cloud assessment and transformation product suite lets you define a sustainability-oriented cloud strategy to deliver the optimal cloud solution architectures.
To accomplish this, Txture maintains data to estimate the carbon footprint of various cloud services of AWS, Google Cloud, and Microsoft Azure, considering data center regions, compute hardware, and service configuration.
When using Txture, you can easily build potential cloud architectures and compare them with regards to CO2 emissions and energy consumption. Thanks to the cloud knowledge base of the platform, you quickly access up-to-date information about the carbon footprint of each cloud service: this helps you make informed decisions and reach your sustainability goals more easily.
Txture offers carbon footprint data for each line item of Txture's cloud target architecture proposals, which supports our clients to perform cloud sustainability assessments from different angles: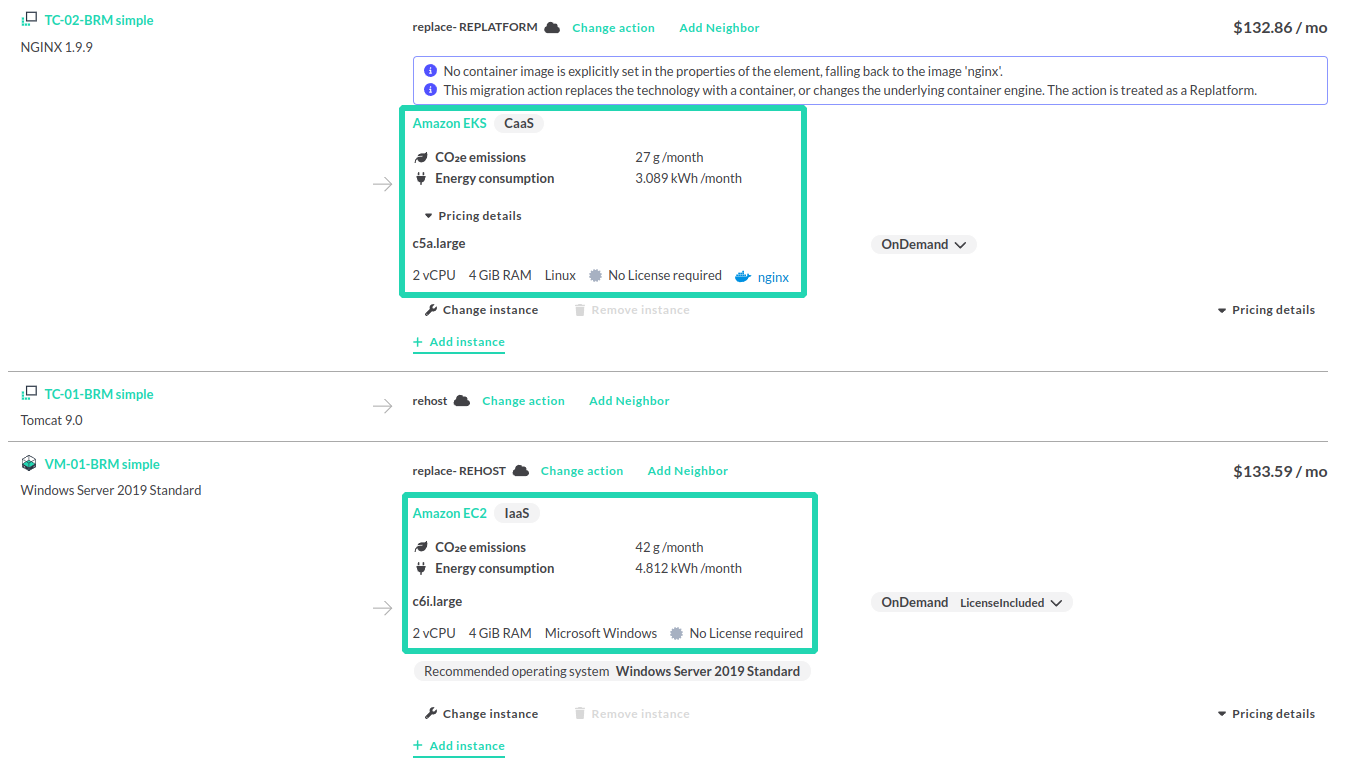 Carbon emission and energy consumption for each line item in a bill of material of a cloud target solution architecture.

Carbon emission and energy consumption for an entire cloud target application portfolio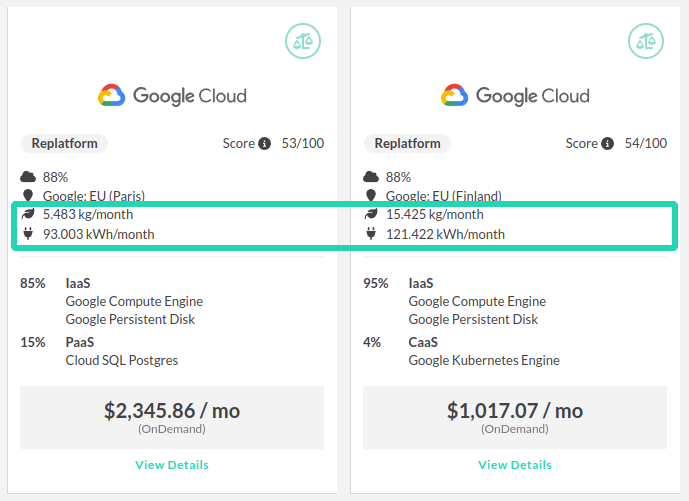 Carbon emission and energy consumption to influence decisions on alternative cloud target solution architectures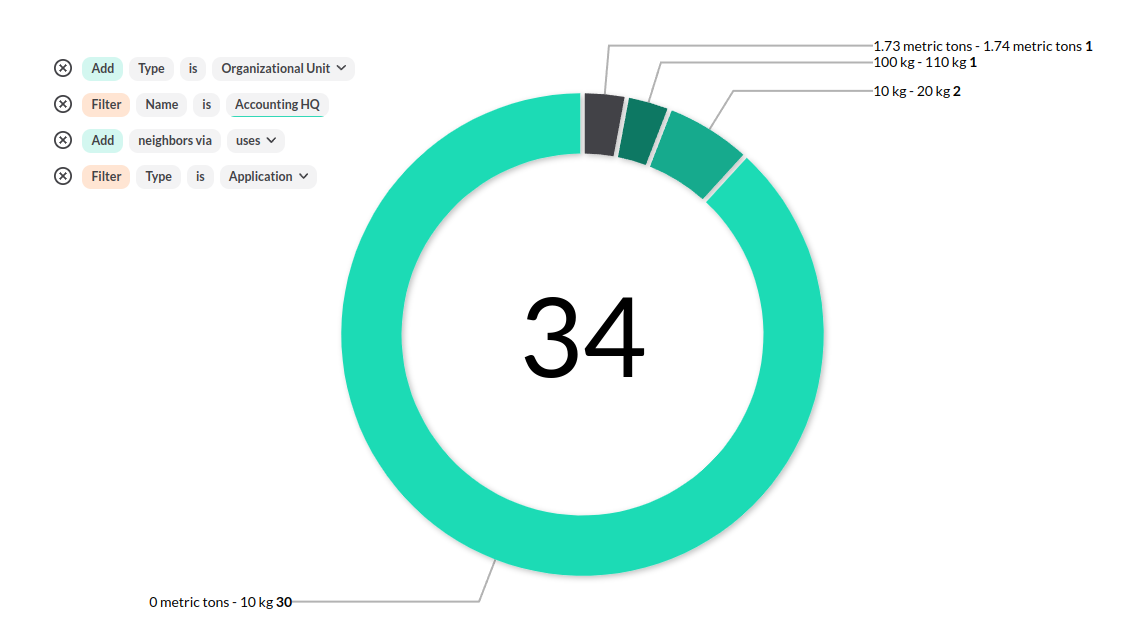 Custom reporting on carbon emission of all cloud applications e.g. used by a certain organizational unit
---
Reach out if you want to learn more about cloud sustainability and how Txture helps you to assess and plan a cloud move that fulfills your environmental and other key objectives.
Txture also helps you to keep track of your long-term sustainability goals and visualizes how your organization performs over time.