ITSV GmbH is a digitization enabler in the Austrian healthcare system and a leader in terms of technological change. As an innovative technology company, ITSV GmbH controls and coordinates the IT activities of the Austrian social security system and makes a significant contribution to increasing IT efficiency.
8.000 supervised workplaces
2.300 operating servers
3.000.000.000 data request per year


Txture as architecture management and cloud transformation platform supports highly regulated organizations in their whole transformation journey and beyond.
Challenge
What was the starting point concerning the search for a tool?
We were looking for a tool which is able to fulfill our requirements. One very important point on the list was a flexible and adaptable data model that is modifiable by our internal team. As a bonus, the possible solution should be able to allow modifications during runtime without destroying already existing data and relations. Another requirement was a GUI with an intuitive that is still capable of helping with difficult tasks.
What did you want to change about the situation at that time?
Our aim was the introduction of a CMDB-solution that includes all our infrastructure components in the data center and all software elements too. But not only the pure object configuration, but also their relation to each other and seeing a bigger picture was something we wanted to achieve.
Solution
Why did you choose Txture? What expertise did Txture bring to the table?
Txture was the only solution during our analysis phase which was able to cope with our requirements. On one hand, it was a certain risk to go with a young company. On the other hand, we have seen the opportunity to develop together a suitable solution for our needs. And that turned out to be the right decision.
Who is using the solution now? And in which situations mainly?
The solution is primarily used by our Service Desk and the teams which manage the daily operations of the data center infrastructure. Furthermore, it is used by the product managers of our own-developed software products and our IT-security department.
Outcome
What's the greatest benefit you've experienced so far?
We have seen many benefits of using this system, not just one. The biggest challenge at the very beginning was to create a suitable data model with a long-term perspective. We took some time to think about it and created a base model fitting the most basic needs. After some time and experience, we had to adapt the model, which was quite easy with Txture's technology. Modifications to the model are implemented without any harm to the whole picture. Another benefit of Txture is the flexibility and amount of importers, where the number still increases. Compared to other competitors most things just work out-of-the-box. The GUI is working on modular and self-designable components, which is very appreciated by our users.
The overall performance of the solution is some important criteria as well. Txture is a fast tool with a very good overall performance, the whole system and database are stable. We see the "Timeline" feature as outstanding as every change in any CI is stored and can be viewed in real-time without performing daily snapshots of the complete database. As the last point, the Txture-team listens to the customer, whereby customer feature requests may be implemented quite fast. Fixes and patches are released shortly after raising an issue.
Customer Tip
Every project should start with requirement analysis. Take your time with this phase since it is very important for your market analysis to find a suitable product/solution. We have spent a lot of time and energy on this, so be patient. However, the better the analysis is, the better you may be able to choose a product. Keep in mind that selecting and implementing a tool is not the goal; also take your processes into account and where the desired solution may support your corporate objectives.
Do not forget your target audience, your users. Aside from all technical requirements, they are the most important point. Just introducing a new tool without asking them for their requirements will lead to discountenance. Therefore, involving them is necessary, especially in the requirements phase.
Final tip: start small and grow, a big bang is not helpful. It may be better to keep the portions small and adopt them. You may encounter obstacles you did not expect even when having a comprehensive analysis phase. With small portions, you keep the implementation flexible.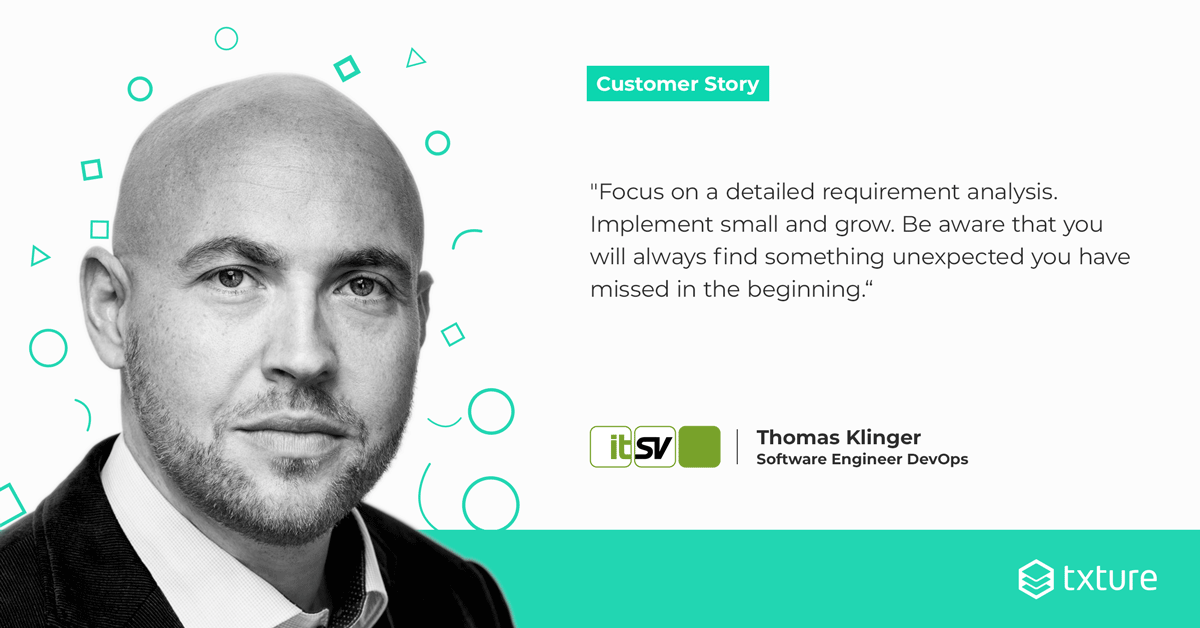 Customer Quote: Thomas Klinger, ITSV GmbH.