SoftwareONE is a leading global provider of software and cloud technology solutions. With an IP and technology-driven services portfolio, SoftwareONE allows businesses to create and implement commercial, technological, and digital transformation initiatives holistically.
SoftwareONE in figures:
8,300+ employees
65,000+ business customers
90+ countries
As a global company expanding both organically and through acquisition, while simultaneously transforming the breadth of services it offers, SoftwareONE relies on a broad technology stack to operate efficiently. The fast-paced company relies on up-to-date insights of its application landscape to ensure it can identify gaps, duplications, inefficiencies or opportunities for improvement across the entirety of the organization.
Txture is an architecture management and cloud transformation platform that companies use to support their transformation processes. Since November 2020, SoftwareONE has used Txture for its own Enterprise Architecture Management as well as its Cloud Transformation.
We asked SoftwareONE's Chief Enterprise Architect Ramon Müller a few questions about the challenges, the approach, and the outcome of their cloud transformation project to give you some first-hand insights.
---
Challenge
What was the starting point in the search for a tool?
SoftwareONE is going through an intense phase of transformation. In the past, we expanded organically, driving the same business model in growing and new markets. In the last 5 years, however, we have shifted our business model towards Software & Cloud, Solutions & Services, while evolving our own technology platform PyraCloud. We are no longer just growing organically, but through mergers and acquisitions, with 13 acquisitions made since our IPO in 2019. Every acquisition introduces new technologies, applications and data, which we need to manage efficiently.
What did you want to change about the situation at that time?
With our rapid growth through M&A, we wanted a single source of truth so that we could make efficient, rapid decisions about our technology landscape based on accurate information.
What was the most difficult challenge, and how did you overcome it?
Like any rapidly growing, acquisitive organization, keeping up with the constant change across the organization was challenging, with models and charts becoming outdated almost as soon as they were completed. For efficient decision-making, we needed to have up-to-date views of our technology landscape from across the organization, not in silos. We had to create a reliable base set of information and a model that allowed a holistic view. Without a tool to provide this view, it can feel like you're using a small lamp and only seeing a small piece of the picture, rather than shining a light to get a clear overview of everything in use.
Solution
Why did you choose Txture? What expertise did Txture bring to the table?
We were looking for an easy-to-use application, with good flexibility to adapt open interfaces to feed data from different sources into one single source of truth, including standard-interfaces, for example for ServiceNow / Configuration Management Database (CMDB), Azure, AWS, etc. We were also looking for a simple way to create and provide reports to different stakeholders across our organization. After running a pilot phase with Txture, we got our first holistic views of our application landscape. We learned how to collect and maintain data, create helpful views and reports, and how to extend the model based on our needs. We also integrated a few systems to simplify and automate several manual data-maintenance tasks. Our Txture Success Manager supported us very well in having our requirements implemented quickly.
Who is using Txture now? And in which situations mainly?
Currently several teams – mainly architect roles – are managing and leveraging data in Txture. We have a set of standard reports defined, which we make available to different stakeholders across the organization.
There are several situations where those reports are useful in order to answer the following questions:
Transparency & Decision making: What applications are used where, what's the status of the implementation, what will be retired, etc.?
Mergers & Acquisitions: How does the landscape look today and what will it look like in the future? Where do we have the same applications? Where do we have redundant or even conflicting apps and technologies?
Cloud Transformation: As we modernize our application stack, which interfaces and dependencies need to be tested?
Data Governance and Privacy: What kind of data is stored where? How is our data distributed across the landscape?
Outcome & Benefits
What's the greatest benefit you've experienced so far and how do you proceed further?
The use of Txture increased transparency within the organization and brings great support in complex tasks and decision-making processes around our technology-, application- and information- landscapes. It has become a day-to-day tool for our architects and technology leaders, to make effective decisions more rapidly.
With our ongoing growth through M&A and modernization of applications to cloud native services, we will continue to rely on Txture to make informed business decisions across our landscape.
Customer Tip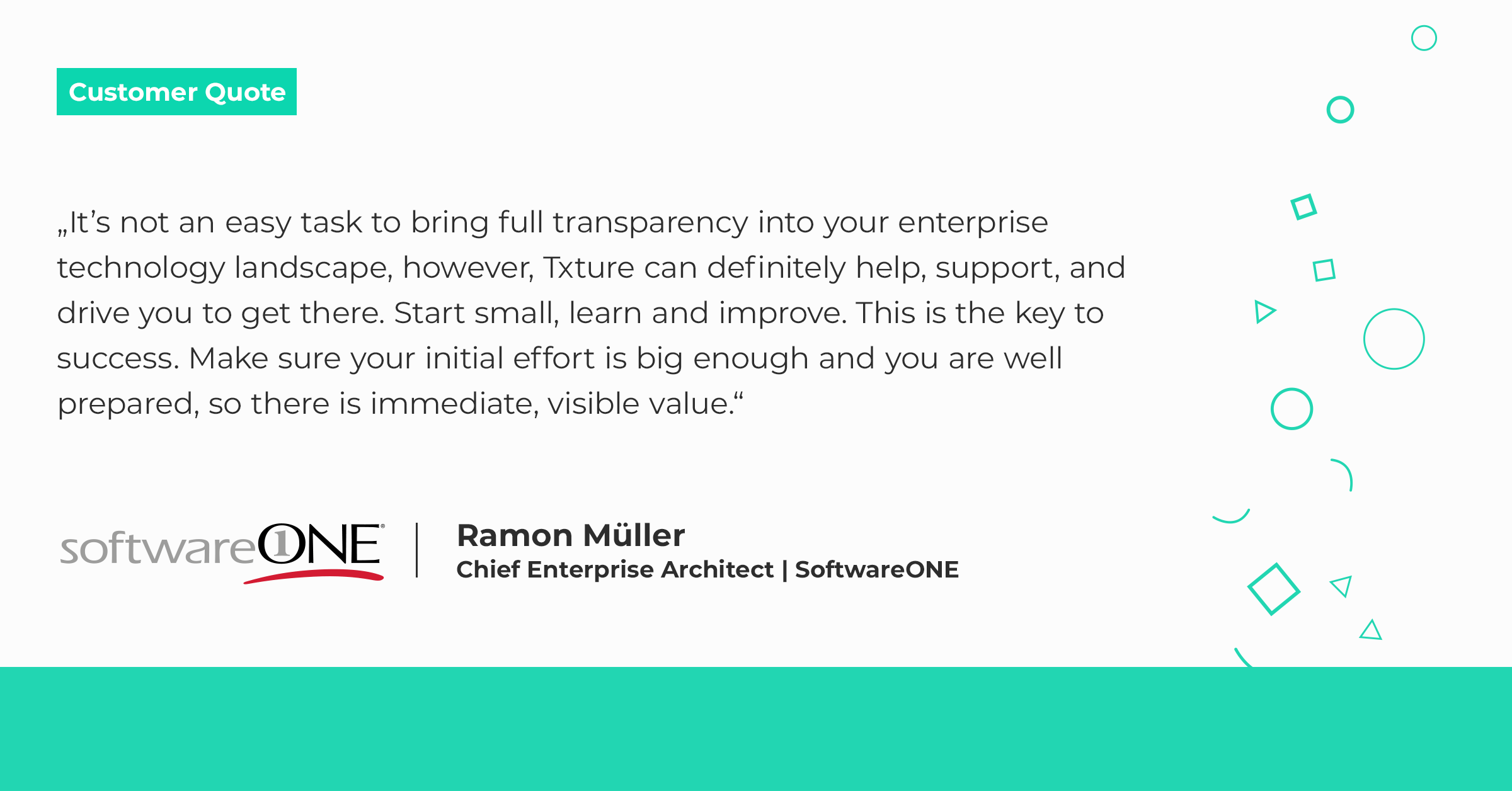 Customer Quote: Chief Enterprise Architect at SoftwareONE