Txture Cloud Transformation is the premier cloud transformation planning platform, as it conducts automated cloud assessments from various angles and immediately translates a given as-is application deployment in alternative to-be cloud solution architectures proposing various infrastructure and platform services across providers.
Beyond the collection of 80+ rules (that come with any Txture installation) assessing different aspects like application complexity or business impact, we work closely with our cloud consulting partners to enable their assessment practices with custom assessment approaches.
Examples of specific assessment approaches include targeting the evaluation of hybrid cloud landing zones, containerization, particular database technologies, or cloud-to-cloud options.
We continuously work on extending the assessment framework capabilities and enriching the collection of built-in assessment rules for the cloud.
Not too long ago we added advanced cloud service strategy recommendations to express a client's cloud strategy spot on.
Now for version 37 of Txture, we have extended how the impact of assessment rules can be defined. Previously we only had a weight per rule to steer its influence onto the total outcome of cloud readiness, benefit, migration risk, 6R/7R, landing zone, and cloud service strategy.
Now you can additionally put a rule into the categories "required" versus "suggested" and also "prohibited", in order to express how rules should be treated next to each other.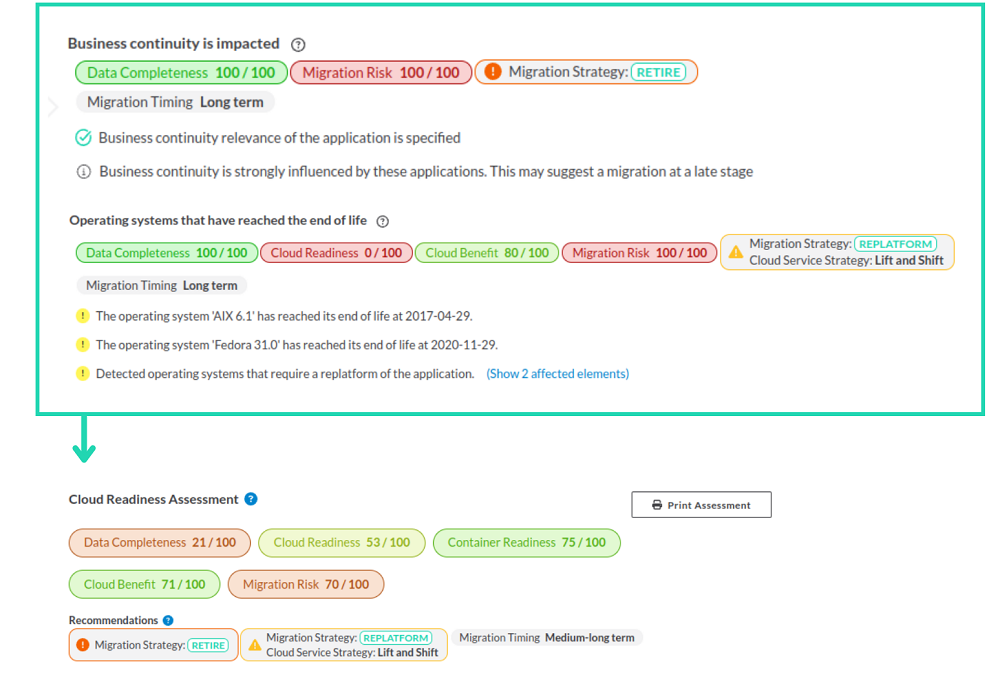 Example assessment rule outcomes both prohibiting a Retire strategy due to high business relevance of the application and at least requiring a Replatform for a Lift-and-Shift approach due to outdated/unavailable operating systems.
We are always happy to work together with our partners to provide assessment automation in full alignment with their cloud consulting practice. Reach out if you want to leverage the Txture Cloud Transformation platform for your cloud transformation planning engagements. What comes next you're asking? Right now we are planning to invest in smart assessments with the goal to enrich assessment outcomes by reducing data collection efforts at the same time.
---
Let us know if you want to learn more about Txture's cloud assessment capabilities and roadmap.