Outposts is AWS' offering for infrastructure and services on-premises, set up in one of your client's data centers. If your client envisions a hybrid (or even private) cloud strategy, AWS Outposts is a viable option. Especially if the cloud journey focuses on AWS as the primary cloud service provider, users can enjoy AWS management offerings and tools familiar to them while running the infrastructure and services locally with the Outposts family of products.
We have recently added Outposts racks (see screenshot below) with their various physical server configuration options and shipping destinations to our cloud services knowledge base. Single physical servers are listed as well, as they can be assembled into existing non-AWS Outposts racks. On top of the physical infrastructure that you can order from AWS, we have added outposts-run virtual compute (EC2), block storage (EBS), and object storage (S3).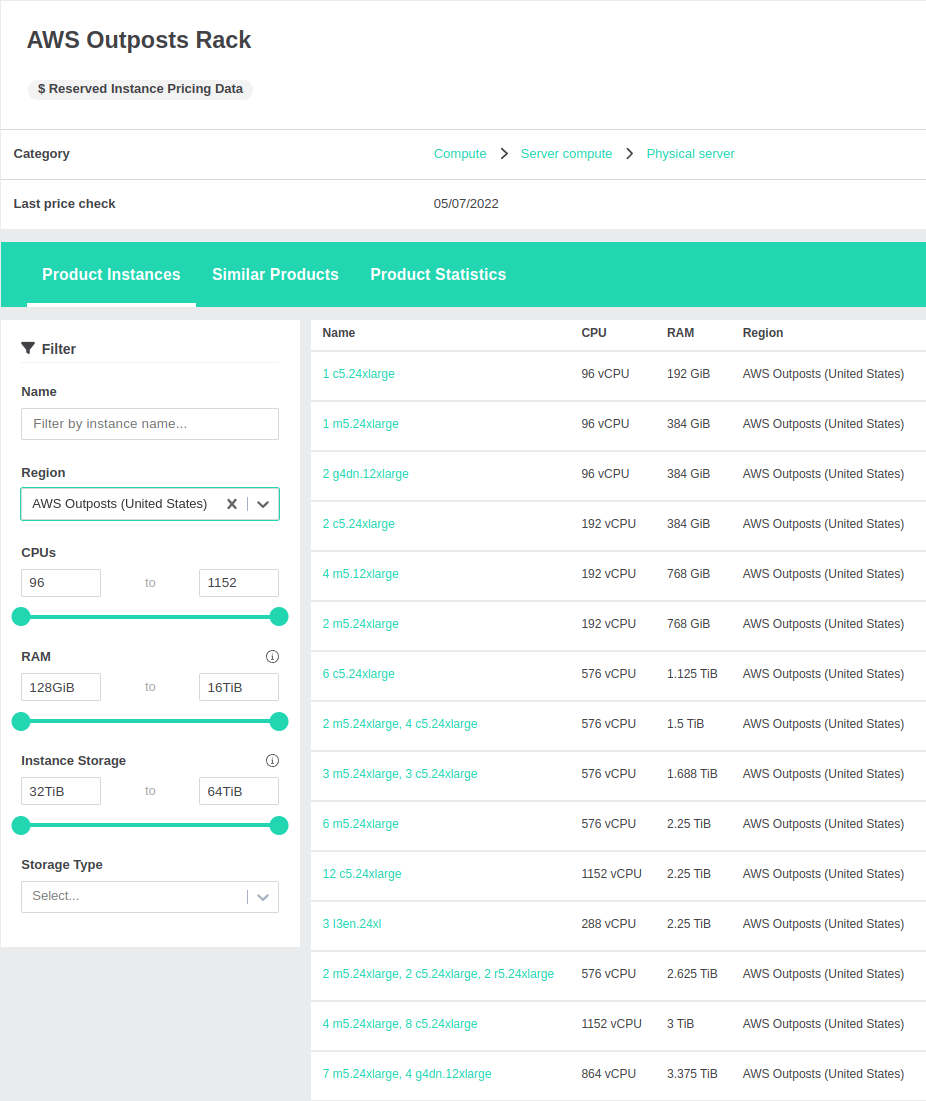 AWS Outposts in Txture's Cloud Transformation Software
How do I use it?
In those scenarios where AWS Outposts are a target for cloud migration for your client, you express this by selecting AWS as a strategic cloud service provider and setting a private cloud landing zone preference in the Target Architecture Preferences of Txture Cloud Transformation (CT).
Once you have done this, the application target architectures computed by Txture CT will include Outposts product offerings. Note that Txture CT's resource utilization mechanism is active for Outposts racks, allowing you to model them as shared components for a target state cloud portfolio. Now, as you lay out a plan to run many different components on rack servers, Txture CT will properly distribute rack costs across all associated business applications.
Below, see three automatically generated cloud target architecture proposals for a single business application instance. Note that the first two proposals are leveraging products from the Outposts family, while the last one is a regular AWS IaaS-based one.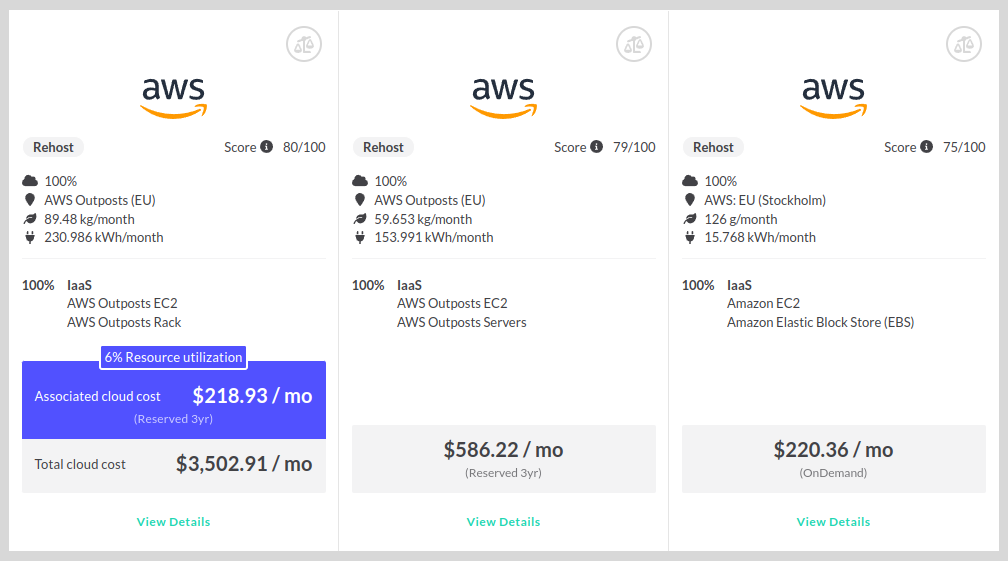 Comparing AWS Outposts in Txture's Cloud Transformation Software
Both private and hybrid clouds constitute major cloud strategies nowadays. The reasons for building up private cloud stacks are usually related to data sensitivity, low latency requirements, or derive from plain economic considerations of shutting down a client data center.
With Txture CT, you are flexible with your cloud strategy and can work towards both landing zones for a client. Txture CT provides all relevant options, including custom private cloud service offerings, environments like OpenStack or VMware Tanzu, and as of latest, AWS Outposts.
Want more input?
Read more about Restricted cloud regions for governmental and highly regulated companies
---
Want to see Txture in action?
Meet our Cloud Transformation Experts and schedule a product demo meeting to get the most out ouf your Cloud Transformation Project!