Expected cost of ownership, alternative pricing options or technical capabilities of cloud infrastructure and platform services, are predominant selection criteria in a cloud journey. Depending on business application requirements, regional availability and industry/security certifications of cloud services play a part too.
But leveraging cloud - like operating your very own data centers - has environmental consequences attached as well. More and more companies recognize this and put forward a responsible IT strategy that foresees the lowering of carbon emissions.
In order to help you and your clients implement a carbon sensitive cloud strategy, we have added carbon footprint estimates[1] to all compute or storage related cloud services. Estimates correspond to the sizing of a cloud service and its geographical deployment location and are provided both in kg/month CO2-equivalent (CO2e) emissions as well as monthly Kilowatt hours of electrical energy.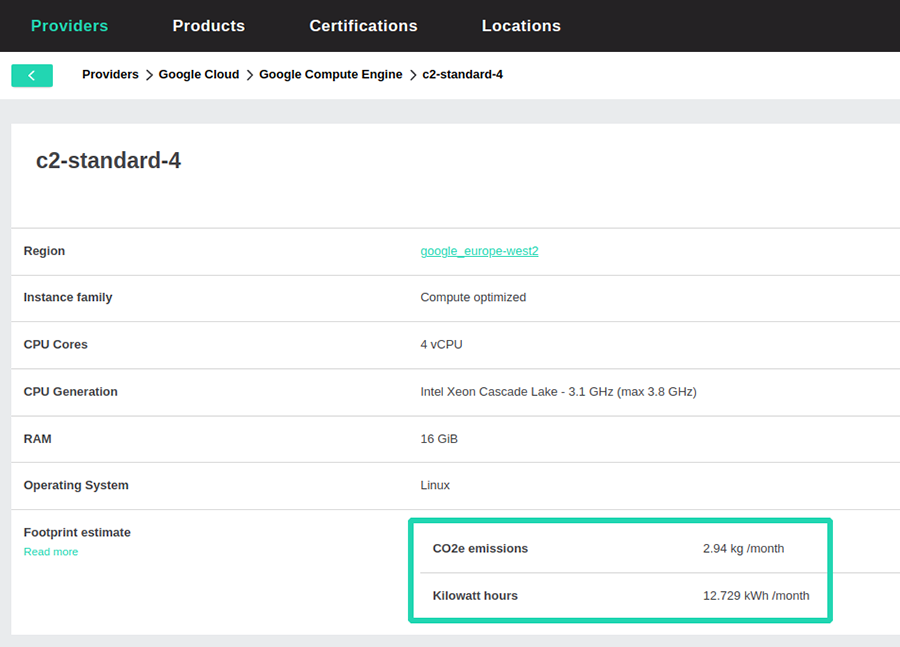 Estimated CO2e emission and electrical energy consumed by a GCE C2 server instance.
---
Login or register today with Txture Cloud Insider (CI) and start comparing carbon emissions of a range of different cloud services across AWS, Azure and GCP.
Also watch out for our aggregated cloud carbon footprint estimations for entire business applications which will soon become generally available in our Txture Cloud Transformation (CT) and Txture Cloud Business Case Builder products.
Feel free to contact us for more information or support!
Sign up now for free