The benefits for clients to shift their applications and IT landscapes to the cloud are already well understood. It usually revolves around expected performance gains, scalability advantages of cloud-native products, boosted productivity, security and greatly reduced maintenance efforts for all assets leveraging cloud platform services.
But on the other hand cloud transformation projects require large investments, have extensive runtimes, and heavily bind both client internal teams and resources as well as advisors and migration teams coming from external consulting.
Because of the complexity, size and impact of a typical cloud transformation project, clients are very careful about deciding on the right migration partners or cloud service providers (CSP) for their endeavor. The choices they make stem from the alignment they see with prospective partners and CSPs alike and the confidence in getting their overall technology strategy implemented within time and budget.
In order to build up that confidence, transformation partners need to work together with clients early on and need to be able to make competitive offers that are relevant to the client. As a CSP you need to understand what it means for the client to move its estate over to your services portfolio. The very same understanding is needed if you are a system integrator.
Right now we experience strong competition between system integrators striving to become preferred cloud transformation partners for their prospective clients. We also see CSPs investing heavily to gain momentum with clients and increase their overall cloud market share. If you are part of this cloud race, you need to understand what your competition is up to, in order to increase your chances of winning a client deal.
Txture will soon launch Txture Cloud Business Case Builder (Txture CB), which should become your solution of choice to work on cloud business cases for your clients efficiently. See the key capabilities below that we are baking into it for you:
Quickly capture the data tables that were shared with you by the client or simply fetch all relevant data from an existing cloud estate, virtualization environment or CMDB, with just a few clicks.
Set a cloud strategy and run multiple automated business cases, where Txture CB provides you with the cloud service and technology mappings across many different CSP portfolios - including yours, a client's preferred one or those of your competition.
Adapt and re-run business cases as your assumptions change or you learn about new client requirements.
Decide on a way forward together with your client by analyzing different business cases regarding total cost, cost per cloud service category, alternative pricing options and much more.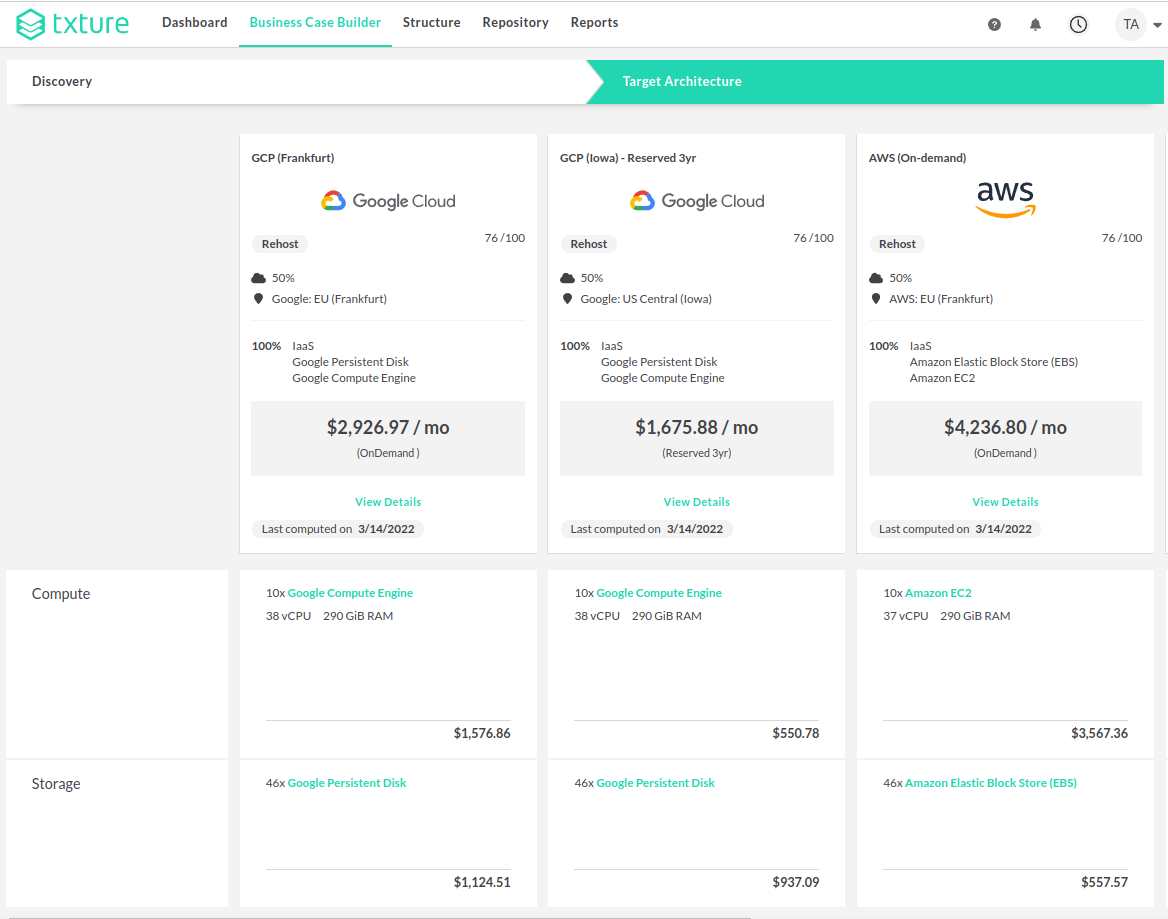 Txture CB preview indicating different business case scenarios with a comparison table of cost per cloud service category.
---
Stay tuned about further announcements that will follow shortly. Get in touch with your associated partner account manager here at Txture already, if you want to learn how Txture CB will reduce time to cloud commit of your clients.

Seeing is believing!
Feel free to request a demo or contact us for more information!