Like every large-scale project, a cloud transformation initiative needs precise goals and a clear action plan. Especially, you must define which benefits you expect from cloud transformation.
In this context, defining a cloud solution architecture is very helpful. A solution architecture helps you define how you will move a specific application from on-premises to the cloud and what you want to achieve through this migration (in terms of cost savings, business value, better security, etc.).
However, given the complexity of large application portfolios, and the overwhelming number of cloud services available, it is not always easy to define the right target architecture.
We will start this article by reminding you what a target architecture is, and then we will give you some tips to quickly find the cloud target architecture that best suits your needs.
What is a cloud target architecture?
For a better understanding of the concept, let's try a comparison that should resonate with everyone. Imagine you want to go on a holiday trip. So far, you don't have a specific plan in mind. You just know that you need a break from your work and from the overstimulating city life. You picture an idyllic spot, a fine sandy beach, palm trees, and turquoise water.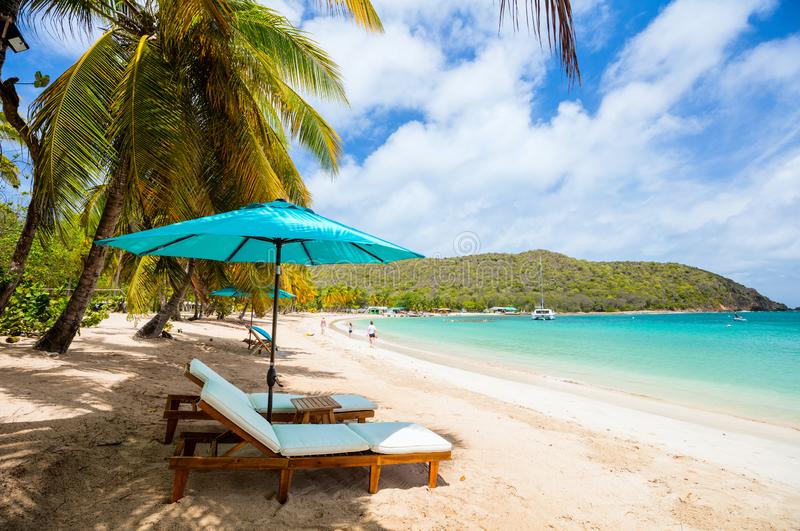 Tempting, isn't it?
But just dreaming about it isn't enough to make it happen. It obviously takes some planning and preparation.
First, you should ask yourself what you expect from this holiday. Maybe, for example, you absolutely want a destination by the sea with sunny weather (palm trees are a plus, but not a must).
Of course, you don't have an unlimited budget. You must define the amount you are willing to spend on the trip and during the stay.
From there, you can compare several possible destinations, their respective advantages, and their costs. And once you've set your sights on a specific destination, you still need to plan the trip. How long does it take to get there? What are the most appropriate means of transport?
Finally, if you're traveling abroad, you should read carefully about the specific procedures and potential risks of the destination country.
In the context of cloud migration, defining a target architecture is (roughly) like planning your dream holiday. The solution architecture describes, for an existing application (or an entire application portfolio):
The final cloud infrastructure or service you should aim at
A plan to move from the as-is state to the desired infrastructure.
And, just like a holiday plan, the cloud target architecture should be based on your preferences and requirements. Which benefits are expected from this cloud migration? What is your budget? How much time do you have? What are your security and regulatory requirements? In a word, the target architecture should translate your business goals into a desired cloud infrastructure that will efficiently serve these goals.
Why is it crucial to define a precise target architecture?
By planning your trip in detail, you minimize the risk of disappointment. Of course, you can book your stay on a whim. But you might find out, after the fact, that the flight is incredibly expensive and lasts fifteen hours. And once there, if you haven't researched the destination beforehand, you might find out the hard way that your dream island, in January, looks like this: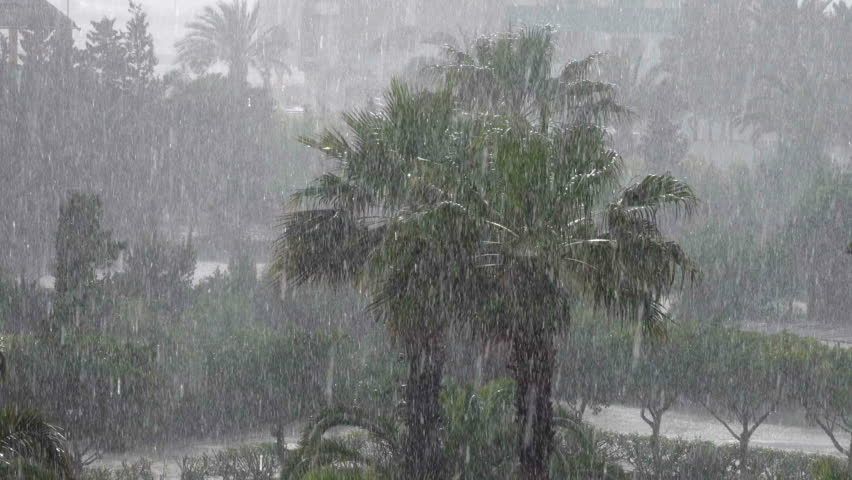 Not what you expected
Conversely, if you come up with a precise plan, you will generally be safe from unpleasant surprises. You will even be able to convince your best friend, Mark, to join you on the trip, even though at first he was rather reluctant.
In the same way, a clear and precise cloud solution architecture will help you:
Make sure that the application, once in the cloud, will work efficiently and bring the benefits your client expects.
Minimize the uncertainty of moving to the cloud.
Reduce fear of the unknown, and convince the different stakeholders (your end client, the application architect, etc.), that it is worth moving the application to the cloud.
How to build an accurate cloud solution architecture?
Now that we have explained the concept of target architecture and its importance in a cloud transformation project, we will discuss in the following the right method to build a target architecture. Hopefully, this method will help you better plan your journey to the cloud, and save you from ending up on a rainy, remote island in January.
1 - Set your preferences: what would you like to achieve?
There are many reasons to move to the cloud. Some organizations want to modernize their infrastructure from the ground up and are ready to spend several years on it. Others aim to stop running their hardware environment in the short term. Finally, for others, cost savings will be the decisive criterion.
The right cloud infrastructure highly depends on what your client wants to accomplish through cloud transformation. Which is why, before defining your cloud solution architecture, you should answer the following questions:
Does the client want to move the entire infrastructure to the Cloud, or just plan to offload the hardware environment (servers, storage, etc.)?
Is migration speed the main factor for your client? Or are they ready to spend more time and effort to experience the full potential of the cloud, in terms of performance, agility and cost efficiency?
What are your client's requirements in terms of security, confidentiality, regulatory compliance?
Would your client prefer public cloud services or will they have a private cloud stack as a landing zone too?
Is there a preferred target location? For instance, if an application is currently deployed in the UK, your client might want to find a UK cloud data center for it.
2 - Analyze your existing infrastructure: what is point A?
Suffice it to say: before wondering how to reach point B, you must know what point A is.
In the context of cloud migration, you must collect all important information about each existing application. This will help you get a better understanding of the application's technical configuration, and its importance for the business. You should especially assess:
The application's technical properties, and the way the application is deployed
The business capabilities which are supported by the application
The level of security and confidentiality required for this application
With a clear vision of your client's "as is" application state, you will be able to determine the best-suited cloud target architecture.
For more detailed explanations on how to assess an application portfolio, have a look at our article about the challenge of data collection in the context of cloud transformation.
3 - Compare the cloud services options, and find the perfect spot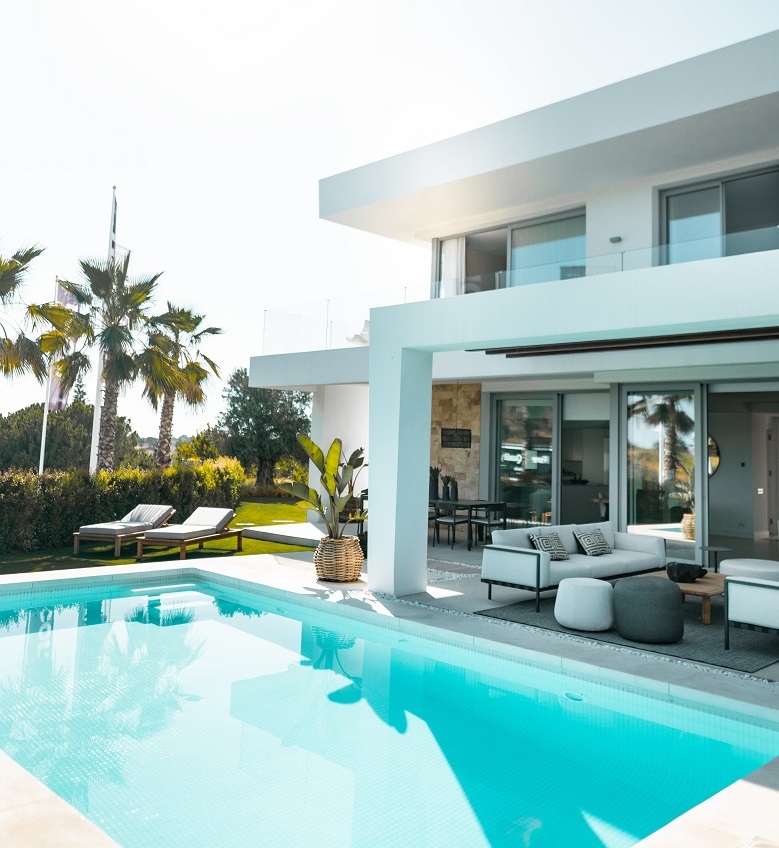 The perfect spot
You know what your existing application looks like. You defined some migration preferences based on your client's strategy. You can now consider some cloud offerings that might match your client's criteria.
Most of the time, the main difficulty comes from the variety of offers and the amount of information to be collected. Indeed, for each option, you should compare:
The main features, feature parity or blockers using cloud services
The costs and different pricing models of cloud services
The data center locations available
Existing migration tools or guides to assist a migration
You should also make sure that the considered option complies with the regulatory and security requirements of your application.
This process can be incredibly time consuming. That is why, at Txture, we created a solution that automatically compares all main cloud services and recommends the best suited options depending on your cloud strategy. Keep reading, we'll tell you more about it at the end of this article!
What should be included in your cloud target architecture?
If you followed the three previous steps, you should be able to define the cloud target architecture that best fits your client's needs. Now, how to write a cloud target architecture proposal? What information should be included in it? Here are a few ideas to come up with a detailed description of your application's final architecture:
The best-suited migration strategy, based on the 6Rs model. When trying to define the most accurate way to migrate an application, the 6Rs is a helpful framework. It consists of 6 different migration strategies. Each strategy refers to a specific approach to move an application to the Cloud. The 6Rs model also gives insights into the benefits and drawbacks of each approach. If you want to learn more about the 6Rs, you can read our in-depth article.
The most appropriate cloud service types (containers, serverless, managed platforms or application runtimes or plain virtualized infrastructure and storage), depending on the application's characteristics and migration goals.
One or several cloud providers, and a list of services that have to be booked from these providers.
The forecast operating expenses for the run services.
Information about the important certifications in your context, and whether the selected cloud services are compliant.
As green cloud is a growing concern for a lot of organizations, it could also be insightful to calculate the expected carbon footprint of the target architecture.
Save time in building your target cloud application portfolio with the Txture Cloud Transformation Platform
Txture enables you to plan your cloud transformation as an all-in-one solution, covering the early phases of data collection and IT landscape discovery, all the way to the definition of a migration roadmap.
Based on the cloud strategy defined with your client, Txture generates, for each application, several possible cloud target architectures. Thanks to its extensive cloud services knowledge base, Txture provides detailed information about the features and costs associated with all consumed services in your planned target architecture. You can identify and compare all relevant options much faster and make your migration decisions with confidence.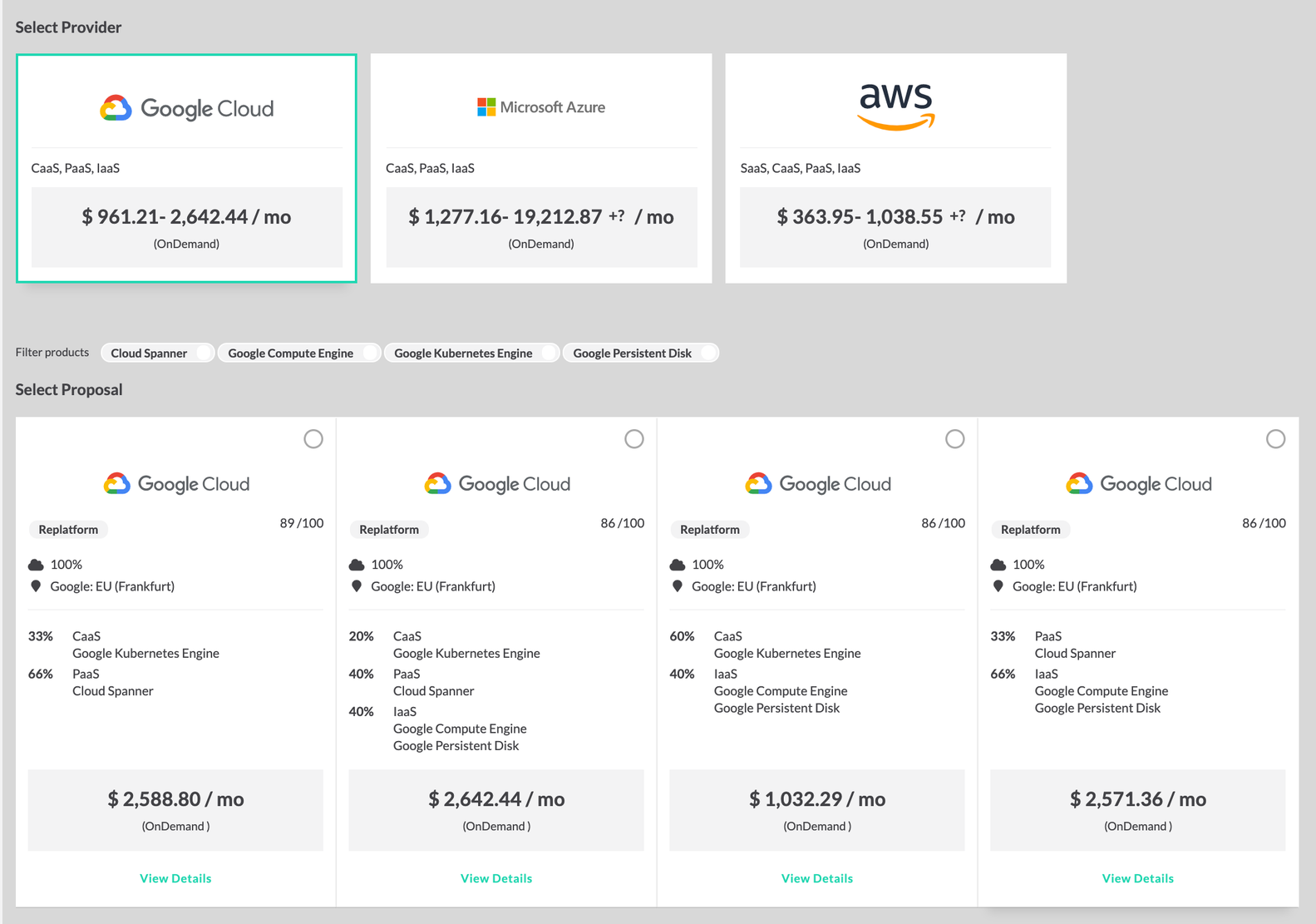 ---
Seeing is believing!
Discover how Txture helps you define the right target architecture and speeds up your move to the cloud.
Reach out to our colleagues from Partner Management and have them show you Txture.
Wondering how to build the right cloud target architecture for all your applications? Or how to choose the right cloud services? Have a look at this short demo video to see how Txture supports you in the target architecture generation!