Welcome back to another installment of our "Cloud Center of Excellence'' post series!
In the first post of this series, we presented the core tasks of the Cloud Center of Excellence, also known as the Cloud Competence Center, and the arguments for organizations establishing a dedicated team. If you are unfamiliar with the core tasks of the Cloud Center of Excellence we encourage you to read our article on "The 7 Core Tasks of the Cloud Center of Excellence" first!
In this blog post series, we take a closer look at these seven core tasks and show you how our Cloud Transformation Platform Txture helps the CCoE to perform a faster and cheaper cloud transformation with fewer risks. Let's have a look at the CCoE's fourth core task.
Enforcing Organization-Wide Cloud Transformation Policies
Establishing guidelines and standards for cloud security, compliance and cost control, is another key task for the CCoE. The expectation is that employees throughout the company will stick to these guidelines and during the entire cloud transformation. When questions regarding these policies arise, the CCoE should be the central point of information. To make this work, the Cloud Competence Center needs full management support, appropriately trained employees and finally, a knowledge platform that enables enforcing, visualizing policies and recommendations at scale. The Txture platform offers these essential features for the CCoE and the extended cloud transformation team.
Cloud Strategy Preferences
Cloud policies can be defined in Txture as part of the Cloud Strategy. These preferences determine the recommendations Txture provides as part of the application assessment for cloud readiness and the automated target architecture recommendations. The CCoE can use these proposals as the baseline for their recommendations when advising migration teams and application owners.
The cloud transformation cockpit provides a set of properties that define your preferences. First, you can define your preferred deployment locations and cloud service models (IaaS, PaaS, CaaS, SaaS). For example, if you aim to move fast because you need to move out of your data center you might choose IaaS (lift-and-shift) as your preferred services model to replace your on-prem infrastructure. On the other hand, if you target to modernize your IT and foster agility you might prefer PaaS or SaaS solutions.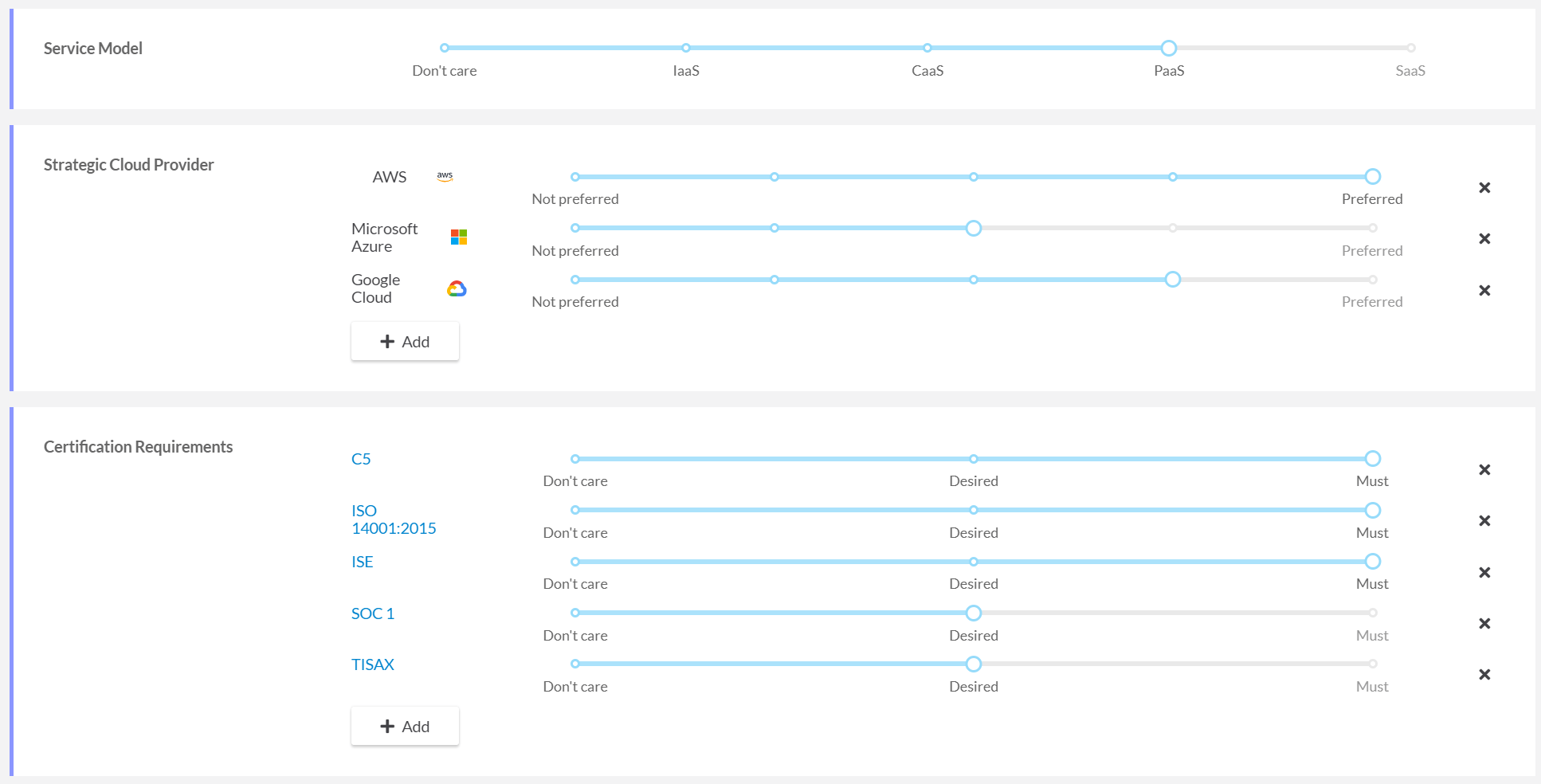 Excerpt 1 - Cloud Preferences in Txture's Cloud Strategy settings
Next, you can set your strategic multi-cloud providers, in this case, AWS and Google's GCP were selected. Currently one can also select AliCloud, Azure, IBM, Oracle OCI Exoscale as well as a set of SaaS providers. A key aspect of an organization's cloud policy is the required certifications of cloud services. These can also be set in the "certification requirements" section. Txture knows the certifications of the services of each provider and can, therefore, preselect services based on your certification requirements such as BSI C5, ISO271001, or industry-specific certifications such as TISAX.

Excerpt 2 - Cloud Preferences in Txture's Cloud Strategy settings
In the next step, you can determine the preferred deployment locations for your application. This is specifically important for taking into account data privacy regulations such as GDPR and also for avoiding latency issues.
Next, you can set your sensitivity regarding the prices of the proposed cloud target architectures. Be aware that the cheapest solution might not be the best in terms of a cloud-native strategy. As a final example, Txture allows you to set your preferences regarding proprietary technologies of the cloud providers. If you set the property Vendor Lock-in to "Avoid strictly" no cloud services will be proposed that might cause a vendor lock-in due to the difficulty of porting the services to another provider.
All together, Cloud Preferences pave the way to calculate tailored cloud proposals for the target architecture of each application based on your organization's requirements and help the CCoE to enforce these policies for the entire organization at scale.
6 R's Migration Strategies
The CCoE as the central cloud transformation knowledge hub consults application owners and system architects in their decision for the right 6 R's migration strategy. Whether an application ought to be retired, retained, rehosted, replatformed, re-architected, or even repurchased, the CCoE has to ensure that appropriate decisions are made based on organization-wide cloud transformation policies or strategic management decisions.
Txture's Deployment & Target Architecture feature automatically proposes suitable 6 R's migration strategies for each application. Cloud proposals provide a recommendation of which migration strategy fits an application and different cloud service providers. Apart from that, different migration strategies can be compared to each other. Importantly, this helps in comparing different solutions with regards to costs, business benefits as well as risks.
Altogether this allows you to quickly categorize large sets of applications and builds your foundation for creating a migration roadmap and take the right transformation decisions.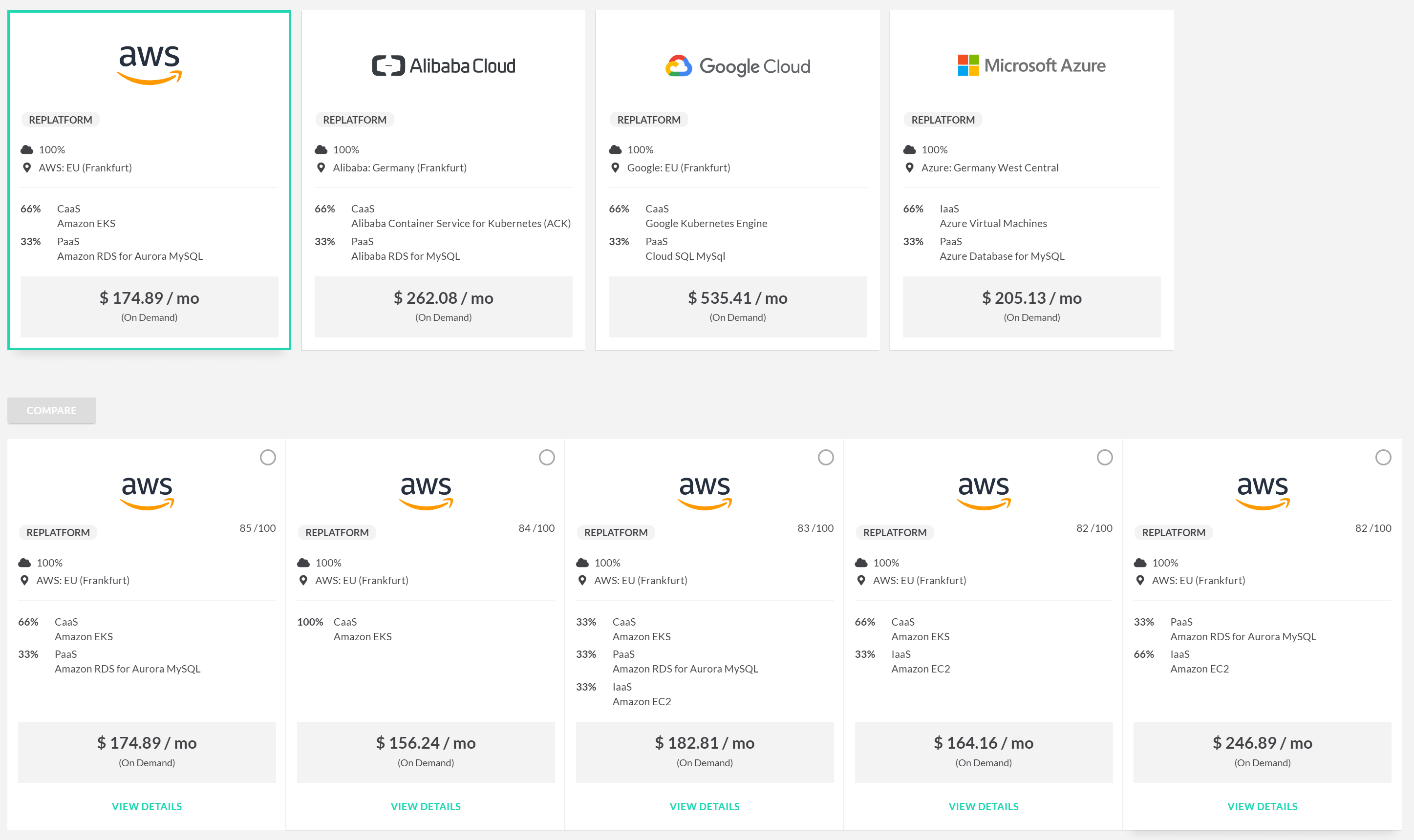 Cloud Proposals in Txture show the recommended migration strategy and further decision parameters for different migration scenarios.
Our series about the Cloud Center of Excellence continues, so come back to read our fifth blog entry. Stay curious for the next post about when we talk about the CCoE Acting as an Internal Cloud Advisor and Guide!
Do you want to know more about Txture's Cloud Transformation Platform and want to discuss how Txture can facilitate the cloud journey of your organization? Feel free to get in touch and book your own demo session!