When it comes to realizing the benefits of modern cloud computing, navigating through the cloud market becomes highly complex. Especially as Cloud Consultant, you will be familiar with the immense time investment that is needed to find the ideal cloud solution for your clients' use cases. Organizations are looking for a portfolio that takes into account both technical aspects, as well as cost optimization.
To speed up this process and find ideal cloud solutions for your clients it is therefore important to gain cloud comparability and a neutral overview of the cloud market. Through increased transparency, you can find the best suitable products, save cloud costs and have a profound basis for cloud migration and solution architecture decisions.
So far, so good - but how can you bring transparency to the cloud market and gain more comparability?
First of all, it is important to understand the 5 challenges that have to be overcome.
Cloud Service Diversity
Price and Service Fluctuation
Unpredictability of Costs
Size and Service Model of Business Applications
Automation
1. Cloud Service Diversity
The first and probably most critical challenge arises from the tremendous diversity of cloud products and product variants, mostly from the hyperscalers GCP, AWS, and Azure. The variety in terms of instance sizes, granularity, certifications, geographic availability, etc. makes cloud service comparison difficult. Additionally, the different product variants, as well as the variety of parameters and billing options complicate cloud pricing comparison for companies and cloud consultancies.
2. Price & Service Fluctuation
The second challenge is directly related to the first one. Cloud prices change rapidly over time and new products are released while older ones disappear from the vendors' product portfolio. Fluctuations of most providers' product portfolios are therefore the next issue regarding cloud pricing comparison.
3. Unpredictability of Costs
The next challenge in comparing and estimating cloud prices for a potential solution arises from a key strength of cloud computing - scalability. It allows us to quickly adjust the size or computing power of a cloud service to easily cover peak loads and save resources. But the problem resulting from scalability is a loss of cost predictability. The paradigm shift from CAPEX to OPEX fundamentally changes an organization's IT budget plan.
4. Size and Service Model of Business Applications
In extreme situations, applications consist of several hundred components, such as databases, load balancers, middleware, or different types of containers and VMs. When deciding on the cloud service model the analysis of the IT infrastructure is an important factor. Costs strongly differ by whether the application is migrated to IaaS, PaaS, CaaS, or exchanged by a SaaS solution. Depending on the service model, suitable cloud product replacements need to be found for a high number of on-premises components.
5. Automation
Identifying a cost-optimized composition of cloud products manually is hardly possible, especially if you are migrating towards multiple providers. The logical consequence is an automated approach for cost estimation. Cloud vendors such as AWS, Azure, and GCP semi-automatically estimate the prices, but only for their own products.
---
Need some help navigating through the cloud market jungle? The Cloud Insider is a new SaaS product by Txture which provides an essential toolbox for cloud professionals. Compare up-to-date cloud prices & services from all major providers like AWS, Azure, GCP and Co. and find your best cloud alternatives. Automatically created bill-of-materials will also save you a lot of time and manual work.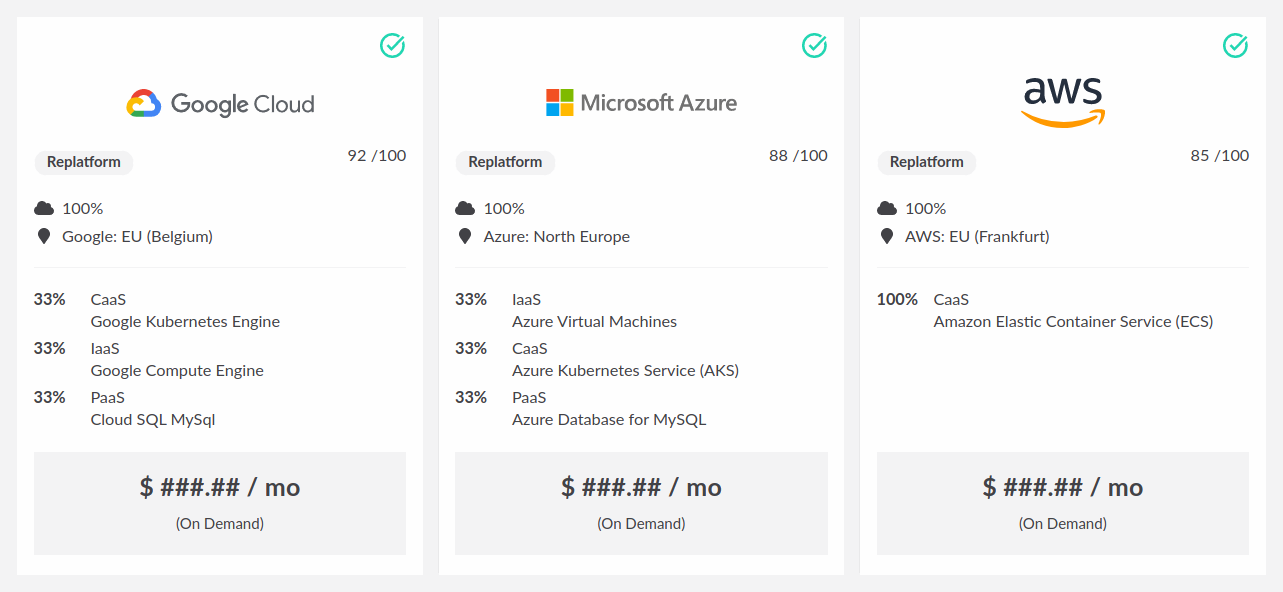 Cloud solutions from different providers compared.
Get the free version now: Cloud Insider.