When it comes to migrating a large part of the application landscape to the cloud, you are faced with some important decisions. Which applications are actually suitable for the cloud from a technical or compliance point of view, which applications bring particularly high added value in the cloud and how can we save costs during the migration?
In the first post of this article series, we present the key concepts of application cloud readiness assessment and cost optimization for large-scale cloud migrations.
After a lot of planning, discussing, negotiating with cloud providers and collecting best practices it's finally there - the cloud strategy. However, when it comes to the practical implementation of cloud transformation, many of us are facing major challenges. Historically grown and non-transparent IT landscapes, regulatory requirements as well as justified and unjustified security concerns make decision-making and the development of the right cloud solutions more difficult. Added to this is the ever-growing zoo of cloud services from different cloud providers with cost structures and features that are hard to compare.
In this article I want to share with you my experience from the assessments of over ten thousand applications that we have accompanied with our software Txture, in order to make it easier for you to translate your cloud strategy into practice. I'll take a deep dive into the important organizational requirements and give you tips to accelerate the cloud assessment of large application landscapes.
First, I let me distinguish between three transformation archetypes - ordered by their speed:
Greenfield/Cloud First: In this transformation approach, only newly developed applications and SaaS purchases are brought into the cloud. This approach gradually replaces legacy applications with cloud applications once they reach their end-of-life cycle. Transformation risk is low, but speed is also low.
Continuous Assessment & Migration: Here, applications are continuously analyzed and migrated to the cloud according to certain decision criteria, e.g. cost savings and cloud added value. This approach is typically controlled by a Cloud Center of Excellence, which I will discuss in more detail below.
Big-Bang Cloud Transformation: In the big bang approach, an assessment of the IT landscape is carried out with great effort, typically with a lot of external support, and then migrated as quickly as possible. Typically, this approach is triggered by a board-level decision, which sets a very ambitious time target for cloudification.
In this article I will focus on the last two approaches. Both have in common that they require structured transformation decisions of sometimes thousands of applications in a very short time. In both cases there is also the requirement for a macro view of the application landscape, i.e. a view of what a migration of the entire portfolio would entail. And a micro-view in which individual decisions for applications must be made.
The upper part of the following screenshot shows the process as it should typically be applied in an assessment. Independent of the use of a tool, this procedure has established itself as best practice.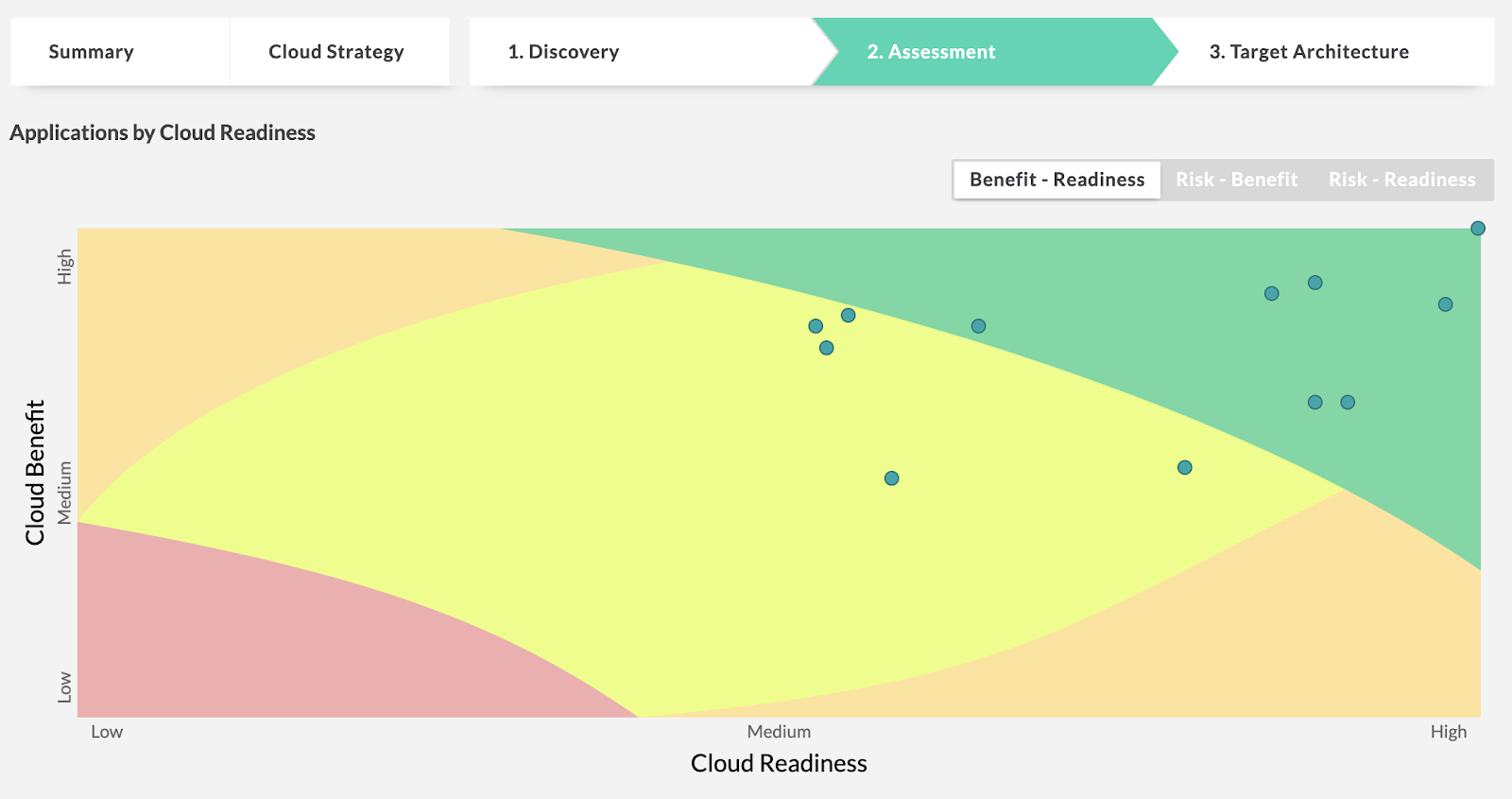 Txture's Cloud Strategy settings
Reading from left to right, the process steps are:
Development of the cloud strategy and establishment of a Cloud Center of Excellence
Discovery phase to collect information about the application and infrastructure landscape
Assessment phase for the analysis of individual applications from a business, security, compliance and technical perspective and decision making in terms of the 6Rs (Rehost, Replatform, Refactor, Repurchase, Retire, Retain). If you are not familiar with the 6Rs, I recommend this blog article => 6 R's migration strategy
Development of the target architecture including cost forecasting
The first step in developing a cloud strategy is to create the organizational foundation to execute. Since cloud knowledge is often not yet widely available and many stakeholders are involved in migration decisions, it is advisable to create an organizational unit that bundles knowledge and communication.
Creating the organizational foundation
So let's get to the first important recommendation.
Establish a Cloud Center of Excellence (CCoE) as early as possible - in the best case, already during your strategy development.
A CCoE is a relatively small organizational unit that manages the entire transformation process and spreads cloud knowledge throughout the company. Typically, the CCoE consists of enterprise architects, experienced cloud and infrastructure specialists and experts from DevOps and FinOps.
The tasks of the CCoE are as important as they are manifold:
Best Practices & Cloud Policies - the CCoE develops company-specific best practices and policies. This is particularly important to avoid technological proliferation and to ensure continuous compliance with regulatory requirements.
Transformation & Cloud Governance - the CCoE maintains an overview of the status of the assessment and migration. It also controls the deployment and optimization of cloud services in use, in order to reduce costs and create standardization.
Upskilling & Knowledge Transfer - as the cloud infrastructure will be the new status quo for most companies, the CCoE is responsible for spreading the cloud knowledge within the company and finding and training new employees.
Stakeholder Guidance & Communication - the CCoE acts as a single point of contact for e.g application managers who are responsible for migration decisions, ensuring that decisions are made more quickly, consistently and in line with strategy. A CCoE is also responsible for the early involvement of key stakeholders. For example, when it comes to consolidating centralized information about the application landscape.
If you now look at the most important aspects of the Cloud Application Assessment, it quickly becomes clear how important the CCoE is for the success of the Cloud Transformation. These aspects include the technical feasibility of the migration (readiness),the migration risk and the analysis of the actual added value of the migration. In order to be able to make well-founded decisions on these aspects, CCoE's accumulated skills are required.
---
Our series about Cloud Migration decisions continues, so come back to read next blog entry. Stay curious for the next post when we take a closer look at these aspects of cloud assessment of individual applications!
Do you want to know more about Txture's Cloud Transformation Platform and want to discuss how Txture can facilitate the cloud journey of your organization? Feel free to get in touch and book your own demo session with me!