Before you get started with your cloud transformation, gaining a clear understanding of your IT landscape is essential. The Txture platform excels at this by creating an application-centric overview of your current infrastructure. It goes beyond mere data collection, generating Like-for-Like mappings and modernization suggestions using cloud products of various cloud providers. This not only highlights opportunities for IT estate optimization, but also uncovers potential cost and CO2 savings.
For a condensed 1-page comparison of Txture and free cloud service provider discovery tools, download our factsheet: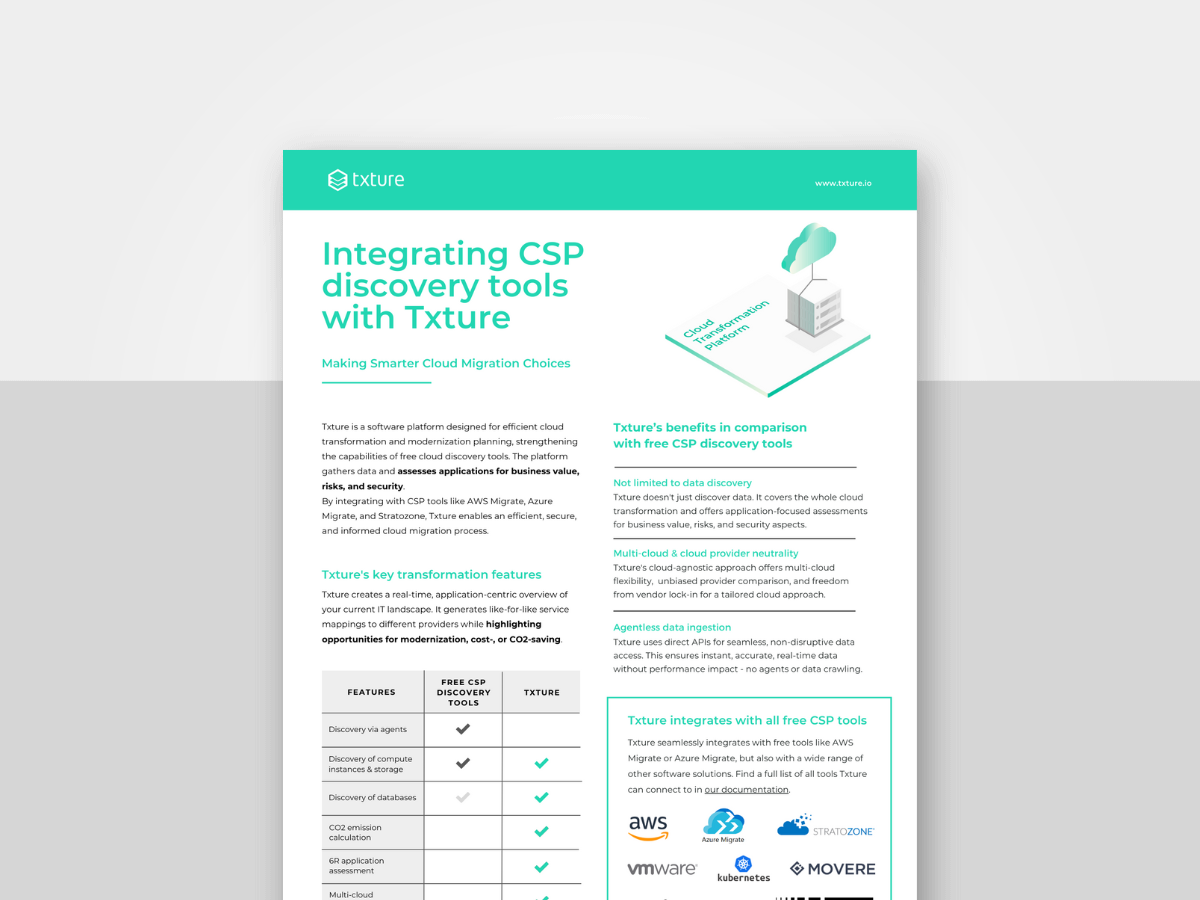 Integrating Txture with free cloud vendor discovery tools
Seamless Integration with free cloud provider discovery tools
You already know to which cloud provider you will migrate? Great, then you can combine their free discovery solution with Txture, benefiting from Txture's extended cloud transformation capabilities. Txture seamlessly integrates with cloud vendor tools like AWS Migrate, Azure Migrate, or Stratozone, but also with other software solutions like CAST, Kubernetes, or VMware. Apart from simply collecting information on compute instances and storage like most free tools, Txture also understands applications and databases, creating application-focused mappings.
You don't have a preferred provider or want to go multi-cloud? In that case, you'll have trouble finding a discovery solution that isn't provider-specific. Txture on the other hand is completely neutral, allowing you to compare the different products and providers from an impartial point of view. This way, you can choose which approach works best for you, without limiting yourself to only AWS, or only Azure products.
For a comprehensive list of all tools Txture is compatible with, check out our documentation.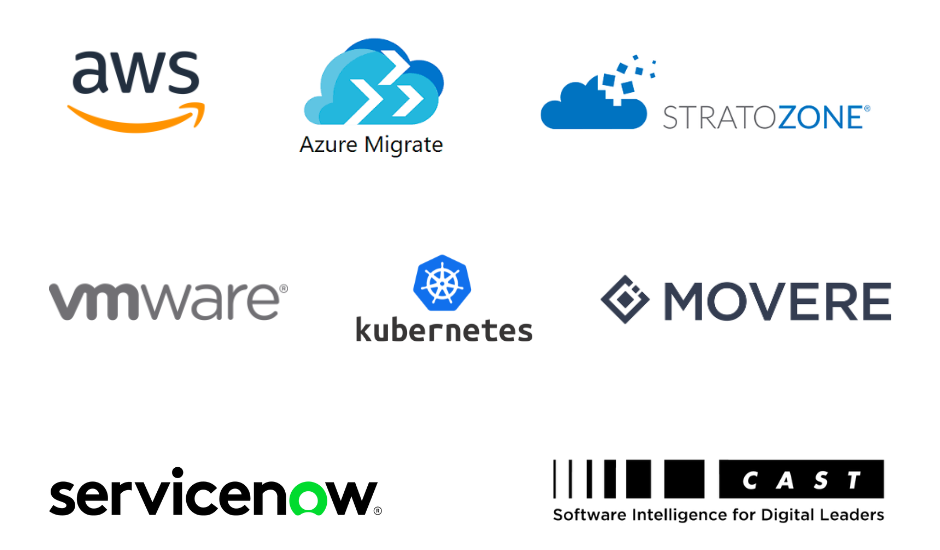 Txture integrates with various tools such as AWS Migrate, Kubernetes, Azure Migrate, Servicenow, VMware, Stratozone, CAST, or Movere.
Txture's unique benefits in comparison with standard cloud vendor discovery tools
Txture offers a range of benefits that set it apart from traditional cloud service provider discovery tools like AWS Migrate or Stratozone. Here, we list the four key differentiators that Txture provides in addition to its solid data collection capabilities.
1. Not Limited to Data Discovery
This might be the clearest difference. Txture offers way more than just data discovery. It takes a holistic approach to cloud transformation, providing application-focused assessments that uncover business value, risks, and security aspects for each application. This comprehensive analysis empowers businesses to make informed decisions that align with their strategic goals.
2. Multi Cloud & Cloud Provider Neutrality
In a world dominated by hyperscalers, neutrality is scarce. Txture's cloud-agnostic approach allows for multi-cloud flexibility and enables unbiased provider comparisons. Say goodbye to vendor lock-in, and embrace a tailored cloud approach that suits your individual needs.
3. Agentless Data Ingestion for Seamless Access
Data access is a critical component of successful cloud migration. Txture sets itself apart by utilizing direct APIs, ensuring seamless, non-disruptive data ingestion. This guarantees instant and accurate data without impacting system performance, eliminating the need for agents or data crawling.
4. Full Data Sovereignty for Enhanced Security
Especially big organizations tend to have strong security and data control cconcerns. With Txture, you maintain full control over your ingested data at all times.
Feature comparison: Txture & free cloud service provider discovery tools
| Features | Free cloud vendor discovery tools | Txture software |
| --- | --- | --- |
| Discovery via agents | ✅ | ❌ |
| Discovery of compute instances & storage | ✅ | ✅ |
| Discovery of databases | (✔️) | ✅ |
| CO2 emission calculation | ❌ | ✅ |
| 6R application assessment | ❌ | ✅ |
| Multi-cloud comparison | ❌ | ✅ |
| Chip provider recommendations | ❌ | ✅ |
| Solution architecture generation | ❌ | ✅ |
| Migration planning | ❌ | ✅ |
Frequently Asked Questions (FAQs)
How does Txture ensure data security?
Txture's agentless data ingestion, powered by direct APIs, guarantees secure and seamless data access. Your sensitive data remains under your control at all times, you don't have to share data with external companies.
What sets Txture apart from free cloud service provider discovery tools?
Txture's feature portfolio goes way beyond mere data discovery. It offers in-depth assessments, cloud provider neutrality, and individualized cloud solution architecture proposals for a more tailored cloud transformation experience.
Cloud service provider tools are free. How expensive is Txture?
Txture's pricing is application-based, that means the more applications you need to assess, the more expensive it gets. Contact sales for pricing details.
Which tools does Txture integrate with?
Txture integrates with a wide range of discovery tools and other software solutions. To get a full list of compatible solutions, check out our documentation.
How does Txture get the CO2 emissions and electricity consumption data?
Txture uses the cloudcarbonfootprint project's logic to estimate CO2 emissions and kilowatt hours monthly. This involves simplified calculations for CPU, RAM, and storage footprints, offering insight into environmental impact while excluding embedded emissions.
Empowering Cloud Transformations with Txture
Txture offers a powerful software solution for businesses seeking efficient cloud migration. With its data collection features, seamless integration with free cloud service provider tools, and a range of unique benefits, Txture empowers decision-makers to make smarter cloud migration choices. By maintaining data sovereignty, ensuring multi-cloud flexibility, and offering agentless data ingestion, Txture meets and exceeds standards set by cloud service provider tools in the discovery area.
Get in touch for a quick assessment of your business needs and an overview of what we can offer to you: